Hello Followers.
Four score and forty years ago, I was a pretty big fan of the Washington Huskies (FYI, there are quite a few Cougar Bloggers out there who also started their lives on the dark side).  And the reason for my Husky fandom was simple: As a child, my dad was an Assistant Professor at UW doing what Assistant Professors do:  Working really hard and make absolutely zero money.
So, it was a big treat for me when my Dad would tell me that we were going to a game.  And our ritual was pretty much the same each Saturday—we'd park somewhere in the faculty lot up by UW's baseball field, walk across the street, grab a couple Taco's from Taco time, and then head over to the stadium to park our fannies on those choice $3 bleacher seats.  And given the fact that my Dad was making a whopping $8900 a year at that time, well, that was actually more than "we" could afford.
In any case, my dad and I were able to go to about half of the home games during the 1975 and 1976 seasons.  And while I was just starting elementary school at the time, my memories were pretty vivid.  And one of the things that remains the clearest about those early Husky games was that the folks that were sitting in the bleachers along with us represented the kind of folks that provided the foundation for the 12's.
I mean, not only were those folks loud in the cheering sense, they were also really vocal about what they thought about Don James and "his brand" of Husky Football.
You see in 1975, James came to Washington as a "who the hell is Don James?" type hire—fresh off an illustrious career at Kent State—a place that was known for its Vietnam era horrors, not its football team.
And in year 1, James and the Dawgs finished 5-6.  In year 2, they finished 6-5.  And since 6-5 didn't buy you a bottle of soda in those days, James entered the 1977 season with a lot of folks wondering if he was the right guy for the job.
And then there was the issue of his quarterback.
Warren Moon entered the 1977 season with a .500 record as a starter.  If I remember correctly, he had a pretty powerful arm—but he wasn't very accurate throwing the rock.  The good news for Moon was that he had a really good WR named Spider Gaines who always seemed able to get behind a defense even when they played prevent—and that allowed Moon to chuck up a bunch of junk and still have it result in a touchdown.
In addition to the Spiderman, Moon had a really good running back named Joe Steele who rushed for multiple 1,000 yard seasons during a time that doing that was really, really hard thing to do.
But even with all of those assets, Moon was erratic.   One moment he'd make a great play with his arm or his legs and the next minute he'd do something that would make fans crazy.   And when he did that, the folks in the bleachers would be yelling for James to bench Moon forever.  And they'd also question whether an African American was capable of playing the quarterback position.
(To this day, the racism directed toward Moon during those games still haunts me.   I mean, it was really, really bad.  I can't even imagine what it must have been like for him to hear that stuff from his own fans).
Anyhow, on September 10, 1977, my dad and I sat down to watch the Dawgs' season opener against the Mississippi State Bulldogs–a team that entered that game ranked 16th in the country.  And while MSU was good, you could see right off the bat that Washington matched up with them.  But thanks to a few miscues here and there—and a few botched passes by Moon, the Huskies dropped that game, at home, 28-17.  And boy the fans were pissed!
One week later, my dad and I watched the Dawgs beat the lowly San Jose Spartans 24-3 in a game that wasn't nearly as close as the score indicates.  And when we left the Stadium that day, I remember my dad telling me, "Sutra, the Washington Huskies might actually be good enough to compete for a Pac-8 championship."
A week after that, the Dawgs lost 22-20 at Syracuse in a game that was a total "woulda-coulda-shoulda."  Then, in the next game, the Huskies gave up a late field goal at Minnesota and lost 19-17.  I almost cried listening to it on the radio.
And with that loss, the 1977 Washington Huskies dropped to 1-3 on the season.
And all was lost.
+++++
Of course, it turned out that Washington' s season had only begun.    From that point forward, the Dawgs responded by winning 6 out of their next 7 games, including a 56-0 route of Oregon in Week 5.  And by the end of the season, the Dawgs found themselves in Pasadena playing in the Rose Bowl for the first time in two decades.
Nearly 40 years later, I still can't believe that a 7-4 team played in the Rose Bowl–never mind the fact that they won it and finished in the top 10 in the country!
(Oh and that guy, Warren Moon went from everyone's least favorite to a hero over the next seven games.  Also:  I think he might have made the Pro Football Hall of Fame).
+++++
So, tomorrow night, our 1-3 Cougars will write the first chapter in what feels to me like a new season.  And while I am in no way suggesting that this team is going to win a championship, I do think it is good enough to challenge for an upper division finish.  But to do that, they will have to beat the Utes tomorrow night.  And as we all know, doing that will be no simple task.
The good news for us is that our showing against Oregon suggests that we can play with anyone in the country—at least at home.  The bad news for us is that Utah already showed they can do the same.   Remember:  Utah beat #5 Stanford  last year at Rice Eccles. They also lost to UCLA by a touchdown at home and had Pac-12 South Champion Arizona State down 19-7 in the fourth before Taylor Kelly led a comeback that broke their hearts and also their season.
So, the fact of the matter is that Rice-Eccles is one heckuva tough place to play.  And as I mentioned earlier in the week on Twitter, when you look at the upcoming slate of road games, it's pretty tempting to think that this one might be the toughest road game we're going to play the rest of the year.
And one of the reasons why it's going to be so tough is that Utah is a dangerous team right now.  I mean, Dres Anderson is one heckuva player.   Nate Orchard is as good of a pass rushing linebacker as there is in the Pac-12.  Gionni Paul—a LB who transferred from the University of Miami—made his debut last week against Michigan and absolutely tore it up.  I mean, he was the Pac-12 player of the week last week!
And then there's Utah's special teams:  A unit that has to rank in the top 5 in the country in kicking, punting, as well as kicking and punt returns.  They're good.  And when I say good, I mean that they are REALLY good.
But here's the thing folks:  As good as Utah is—and I think they're pretty darn good—the fact of the matter is that they haven't played anyone yet.  Of course, if we beat Michigan 26-10 AT HOME in any season, I'd be doing dances around my living room for weeks to come—so Utah deserves to feel good about the drubbing they just put on Michigan in Michigan Stadium!!!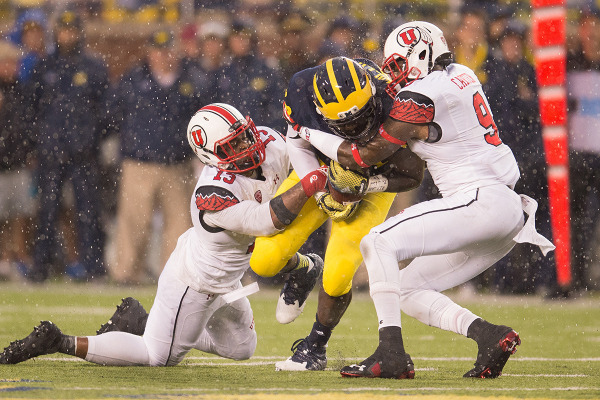 But the flipside to all that is that Michigan is simply not a good football team—and neither is Fresno State or Idaho State.   And while I thought that Utah's overall play and game plan were great in the Big House last Saturday, it's important to remember that their performance was two weeks in the making.   And while Utah's pass-rush has been really, really terrific, part of their success rushing the quarterback has come on third-and-long situations with quarterbacks that are taking 5 and 7 step drops.  In other words, they have yet to play a team that will get the ball out in space as quickly and effectively as we will.
And then there's our schedule. To be sure, with the exception of Oregon, we've faced no world beaters either.  However, we have two things going for us.  First, our young offensive line has already played a game in a tough road environment (albeit not as tough as Rice-Eccles).  Second:  we will be facing a similar scheme for the fourth stinking week in a row.
So, while its entirely possible that Utah will come out and blast us, I don't think that is likely.  Because while our 1-3 record sticks out like a sore thumb, the fact of the matter is that we've played VERY well on offense in 3 of 4 games; while our defense has played pretty darn well in 3 out of 4 games.  Is that a trend?  We'll soon find out.
The Keys to the Game:
1)      Officiating
As Brian Anderson noted over at Cougcenter this week, our WR's have done a MUCH better job of getting off jams at the line.   And to win in the conference, that will need to continue against physical teams like Utah.  But beyond that, if we're going to win games on the road, the refs have to protect us.  Meaning:  If Utah is allowed to hold the way that Nevada was (which was still a crime, by the way), then it's going to be a long night.  Let's hope the refs call this one fairly–and if they do, we're going to move the ball.
2)      Stop the Run
Last week, the key to the game was to make the future Heisman winner beat us with his legs and his arm.  We did that, and were it not for a few breaks here and there, we might have won the game.  This week, the key is the same:  Stop the run and let Wilson beat us with his arms and his legs.  And while its certainly possible for him to do that; history suggests that Wilson will turn the ball over when teams stop the run.
So, the key to the game is simple:  Turn the game into the Wilson vs. Halliday show. If we do that, I really like our chances.
3)      Come Away With Something
Last week, we scored 31 points against an Oregon defense that is littered with NFL linemen, linebackers, and corners.  And what's amazing about that is that we had the ball INSIDE Oregon's 35 yardline four times during that game and came away with ZERO points.
So, if we're going to win this game—and win any games for that matter—we simply must put points on the board inside Utah's 35 yard line.   Do that and we'll put a lot of pressure on them to keep up.
4)      Make Utah Ordinary
Like I mentioned above, Utah's special teams are among the best in the country.   So, if we're going to win on Saturday, we're going to have to be great on special teams.  And that means we cannot afford to give up any big returns and we have to take care of our own kickoff and punt returns.   To wit, in the four games we've played so far this year, we have two fumbled punts.   That simply cannot continue against a hot team in a very hot environment.
5)      Stay Close Early
In our three road wins last year, we did a really good job of either taking and early lead (CAL and Arizona) and/or keeping the game close in the first half.  And while this team is good enough to come back from a 17-3 type deficit, it's always better when Connor and company are able to get the offense rolling early.   So, while its not an absolute necessity, a 7-0 first quarter lead would be helpful in allowing our defense to stay aggressive while giving our offensive line a chance to settle down.
Over Under:
1)      Will Connor throw for more than 400 Yards (OVER.  I think Utah will be aggressive up front and that will provide lots of opportunities for big plays.  So, let's say 503).
2)      Will the RBs amass more than 100 yards on the ground (UNDER.  Utah will pressure a lot—so while I think Morrow will need to come up big in the passing game, I think the RBs do little carrying the pill in this game. I'm thinking 53).
3)      Will the offense score more than 35 points?  (UNDER)
Prediction
Utah is a really good football team.  No ifs and or buts about it.  At the same time, this game is so important for them.   And if you're doubting that, check out the schedule in the weeks that follow: @UCLA, @Oregon State, USC, @ASU, Oregon, @Stanford.    So, while Utah is standing tall right now, there's a chance that if they lose this game, they could wake up and be 3-8 on November 22nd.  And you better believe they know that.  So, this game could turn into one helluva grip job for them.
And for us, well, I don't think we could be any hungrier for a W. And the fact that we just played a team that is better than Utah and has the same type of scheme on O, well, I think that gives us the little advantage that we need.  Cougs win this one 34-27, setting the stage for me to have sleepless nights all of next week—I do NOT have a good feeling about the CAL game.
I'll be back Monday with a few thoughts about the game.
All for now.  Go Cougs!!!!!