Happy Monday Cougs, and welcome to game week already for 2014.  Already in that yeah, can't wait for football to get rolling and all that, but man has this summer just flown by for yours truly.  But fall is in the air, you can feel it coming can't you?  And with that, the Cougs get things started Thursday night vs. Rutgers.
What are we going to see, well, that's a good question.  For some quick thoughts on this week's game, plus other stuff on the expectations on 2014, continue on…
Fellow Cougs, first off it's been a while since I've posted on this blog.  The reasons/excuses are many as to why this is, but I won't bore you with the details.  After all, it's in the past and that's where it belongs, am I right?  Anywho, with the season basically here my good friend Sutra and I decided it was time to start writing again, just to share thoughts and ideas and all that on the team and sport we love so much.  So here we go.
First of all, this week's game notes from WSU have hit the web, which you can check out here.  As usual they do a great job with the details, and there are always some really interesting facts and such to take away for the upcoming game.  For example, did you know the last time WSU played a Big Ten opponent in Seattle, they lost 42-7 to Ohio State and Archie Griffin?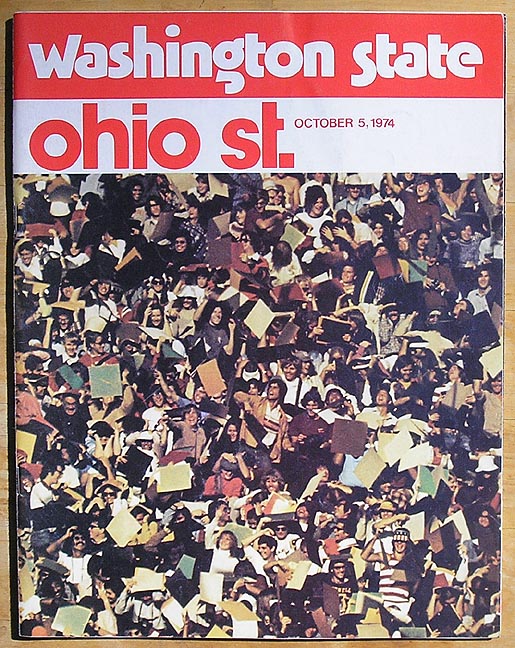 I'm not sure what that has to do with this week's game, but still kind of interesting.  Of course, this week it's Rutgers representing the Big Ten, so they aren't exactly your typical midwest powerhouse?  Let's face it – nothing against the Scarlet Knights or anything, but they are not the first team that comes to mind when the term "Big Ten" flashes across your mind, am I right?
Personally I feel like this game should likely go the way a lot of people expect, and that's the theme of 2014 if you want to know the truth.  And what's that theme that I can't get out of my mind when it comes to the Cougs and 2014??  YARDS AND POINTS.  Meaning we're going to be entertained this year, for that I have little doubt!  That is, entertained if you like YARDS AND POINTS because I believe that is what we will see, week after week after week.  Everything I've read, everyone I've talked to, every interview or highlight I check out, the theme just keeps coming back to this – we're going to gain a lot of yards and we're going to score a lot of points in 2014.
I know, I know, the doubters continue to lurk.  There are many who even comment on this blog who have issues with coach Leach and Connor Halliday and the system in general, that it's too this or too that.  But that's understandable, as this really was a .500 team last year.  And obviously when you go .500 or somewhere in there, you typically see moments of brilliance mixed in with "…..what was THAT!?"  But when you throw it 700+ times and you are a .500 team, well, it comes with the territory I guess.
There was an interesting article that floated around a few weeks ago, and it had something to do with finding happiness.  As in some scientists actually figured out an equation that tries to predict how much happiness an individual may find in a given situation.  From the smallest things, like having lunch with a friend or a night out with your buddies, to the biggest things in your life like relationships with your partner/spouse/whatever to your career, they think they generally have it figured out:
"Our basic finding is that happiness depends not on how well things are going, but whether things are going better or worse than expected," said study author Dr. Robb Rutledge, Senior Research Associate at the Max Planck UCL Centre for Computational Psychiatry and Ageing. "Our mathematical equation allows the influences of past rewards and expectations to be combined to predict how happy someone will be."
Of course it's never that easy/basic.  But just in my own little world, I can say that a lot of times whether or not I was happy with whatever was directly based on the level of expectation I may have had going in to the experience.  Some of the best and most fun nights of my life when out with friends for example were often times when I least expected it.  Meanwhile sometimes big events didn't quite match the "hype", like New Year's Eve or something like that.
I thought back to the 2013 Coug football season in terms of expectations and happiness and all that, and you know what?  I was pretty happy with last season, all things considered!  Yeah, there were moments that were disappointing, such as the Stanford or ASU or Oregon State games that turned into blowouts.  But I was also THRILLED with what happened vs. Arizona or USC or even Utah, the latter of which clinched a bowl-eligible season.
And that thrill I can easily say had a lot to do with my own personal expectations going in.  I didn't think we would beat SC or AZ, and I didn't think that 2013 would be a bowl season in that I thought it would be close as in 5 wins or so, but I didn't see the postseason coming.
That said, the expectation for me anyway is that given the 1) experience and productivity of the QB and skill guys all back for 2014, 2) a good chunk of the front 7 back on defense and an extremely young-but-more-athletic looking secondary that we have seen in some time in Pullman, AND 3) a somewhat easier non-conference slate of games compared to last year (no trips to Auburn for example), my expectation is that this will once again be a bowl team.  But of course, health is going to play a huge part in that expectation.  IF everyone stays relatively healthy and they can avoid the major injuries to the front line headline-type guys, a 6-or-7 win season should be in the cards.
But if we see them decimated by injuries from top to bottom, I think it's fair to say a bowl is a longshot at best.  As good a job that Mike Leach and the coaching staff are doing in building out the program from top to bottom, depth is still potentially an issue that will probably take a couple more strong recruiting classes to deal with and still get to the postseason.  I wouldn't say that we would fall to the level of the horror show that Cal became last year, where the injuries and changeover at head coach were far too much to overcome in a train wreck of a season!  But in a worst-case scenario, a 4-win season may not be out of the question if things go horribly wrong.
So that's about it for now.  My expectation is that this is a 6-or-7 win team, and that it should be entertaining to say the least!  But that's just me.  What do you think?  What are your realistic expectations for 2014?
Enjoy your Monday, the first GAME WEEK MONDAY of 2014(!), and of course….GO COUGS!