Hello Followers.
Well, GameDay has finally arrived for Week 2.  And boy am I nervous!
At start of the off-season (post spring), I had this game marked down as one of the games that could really derail our bid for a special year (like 8-4 or better).   Little did I know that we would drop the Rutgers game and that this game would represent the first major "Must Win" of the season.
'Cuz lets face it folks, a team that goes 1-2 in non-conference is NOT going to win 5 games in the Pac-12.  So, if we have any hope whatsoever of making a second straight trip to a bowl game, then we need to leave Reno tonight with a W.  Lose the game and the season is DOA before it really even started.  So, even though its cheezy, this is a 9-1-1 emergency type game–and in Reno no less!
Before the Rutgers game last week, I gave you five keys to the game.   They were in order:
1.  Do Your Job on Offense
2.  Don't Lose the Game on Special Teams
3. Have Darryl Monroe Play Well
4.  Get Home On Blitzes
5. Convert in the Redzone
As you can see, two of the keys to the game (1 & 5) were directed to the offense, two were directed to the defense (3 & 4) and one was directed at Special Teams (2).  Obviously, we were successful on Keys 1 & 5 and failed epically at the other three.
The good news is that if we had simply done ONE of the other keys well we would have won that stinking game.  And so, as we look forward to tonight's contest, we can just cut and paste the exact same keys—with two key additions/addendums.
First, if "getting home" on blitzes is a key for victory, it might be a good idea to actually, well, uh, blitz.  To this point, last night I switched from the Hawks game every now and again to watch parts of the Arizona v. Texas-San Antonio contest.
And if you get a chance to watch that game on Pac-12 rewind, I think you'll be impressed by how an under-talented UTSA defense held their own in that game based on effort and scheme.   Simply put, if we don't have something different to throw at Nevada tonight on defense, I'm going to start eating frogs.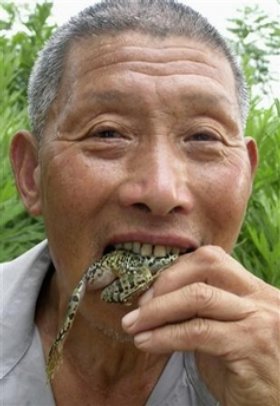 The other MAJOR key to the game tonight is to win the first quarter.   As we all know, the best remedy for an ailing defense is to allow them to play with a lead.    So, if we want to reverse course and give that young secondary (and struggling linebacker corps) some needed confidence, we need to allow them to play with a lead.   And that means getting the ball first, scoring, getting a stop or holding Nevada to a FG, and then scoring again.   In short, if we can jump out to a 14-3 lead early in the game, we'll be able to pin our ears back a bit.  And if that happens, a MUCH needed blow-out type performance becomes possible.
Over-Under
Last week, I offered a new "over-under" angle to my predictions based on my views of the three keys to winning.  They were:
1)      Connor throwing for over 400 (picked over and was correct)
2)      The RBs amassing over 100 for the game (picked over and was wrong)
3)      Scoring at Least 35 points (picked under and was wrong)
Nice start, right?
For this week:
1)      Connor throwing for over 400 (over)
2)      The RBs amassing over 100 for the game (under)
3)      Scoring at Least 35 points (over)
Prediction
This one has been a really, really hard one for me to predict.  On one hand, we have Cougar coaches and onlookers who are convinced that this team is better and more talented than the bowl team that preceded it.  On top of that, history shows (especially for teams named Oregon State) that Week 1 outcomes are often NOT predictive of what happens the rest of the way. Moreover, when you factor in the fact that the last two games were lost due to stupid gaffes on special teams, it stands to reason that simply eliminating turnovers on special teams will result in victory for us–and that doesn't even factor in the fact that Rutgers is much better up front than Nevada!
At the same time, the defensive numbers have become impossible for me to ignore.  I mean, all off-season I viewed the Colorado State game as an aberration.  And, even after the Rutgers game, I found myself immediately thinking that the defense just had "one of those games" and we'd turn it around this week.
But, when I went back and found out that the 41 points allowed to Rutgers matched the average number of points we've given up over our last ten games (41.6), well, that's just too much for me to ignore.  And so, until such time that we show we can stop somebody, the smart money is to bet against us–especially since we're facing a dual threat quarterback that can complete passes (in contrast to Auburn and Arizona last year).
Thus, while I see Connor lighting the roof on fire again tonight to the tune of around 550 yards, I think we go down again.  Nevada beats the Cougs 45-42 in what will send Cougar Nation ablaze with anger.
Elsewhere:
Stanford 31  USC 30.  If Stanford is going to take a step back this year, USC is going to have to start that slide.  But, when I look at Kevin Hogan's record over top 25 teams, this one just feels like its going to go the Trees' way.  Might have gone a different direction if Lenard Williams was healthy, but since he's not, Stanford takes a BIG first step toward the College playoff.
Michigan State 31 Oregon 23.   Most people think that you beat Oregon by outscoring them, but you don't.  Oregon loses when other teams are able to stop that running game.  And until such time that the Ducks show me that they can beat someone through the air when the running game stops working, I'm going to pick against them.   And while Mariota is MUCH better than Braxton Miller, I saw enough in that B1G title game last year to know that Sparty has the horses to play against that speed.  What's more, Connor Cook is the EXACT type of efficient, pro-style quarterback that can carve up that young Oregon secondary.  Hope I'm wrong, because an Oregon loss would do nothing to enhance the reputation of the conference.
Washington 35  Eastern Washington 31.   A few years ago, Keith Price made his first big mark on Husky football by leading the Dawgs to a wild comeback win over those pesky Eagles.   I expect the exact same performance from the Huskies on Saturday, with Cyler Myles' athleticism proving too much down the stretch.  Had Washington played better last week, I would have pegged the Eagles for the upset.   But now, you have to figure that Washington's size and athleticism is going to be a bit too much for the FCS favorites.
That's all the time I have for today.  Enjoy the game tonight!—we may only have 10 more times to watch Connor Halliday and those receivers do their thing.
All for now.  Go Cougs.