Hello Followers.  Hope you are doing great.
Tonight our young Cougars take on the three time defending conference champions—and on the road no less.  And while this game represents a near certain "must win" for our bowl hopes, this one is equally critical for the Cardinal.  Simply put, with a loss tonight, Stanford will fall to 3-3 on the year and 1-2 in league.  Not good.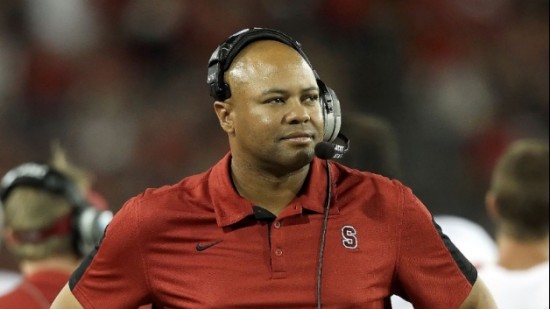 Moreover, with a loss tonight, Stanford will fall to 6-5 in their last eleven, which is hardly the type of record one would expect from an elite program.
Of course, one of the reasons for Stanford's recent fall from grace involves the play of their quarterback, Kevin Hogan.  Two years ago, Hogan took the job from Josh Nunes who lost his job following a lackluster 24-17 victory over the Cougs in 2012.   Following that game, the Trees took off.
And the reason for their ascension was as follows:  (1) Hogan could run the ball.  (2) Hogan could throw the deep ball.  (3)  Hogan did not turn the ball over.
And, as well all know from watching the World Champion Seahawks, mobile quarterbacks who can manage the game, hand the ball off to an effective running game, and stretch the field vertically through the passing game have the potential to become, well, champions.
Notwithstanding the merits of Hogan's game, the tables started to turn on him and the Cardinal just a bit during last year's game with the Utah Utes.  In that game, Whittingham's Utes advanced the blue print on how to beat the Cardinal:  Stack the box but play the corners deep.  The idea:  Try to make Hogan beat you with his arm in the mid-range passing game.
Unfortunately for the Trees, Hogan has since shown a great deal of difficulty beating teams that are able to successfully implement that strategy (e.g., stop the run and not get beat over the top).  And the reason for that is two fold.  First, he's not that accurate.  Second: For the past two years, Stanford has not gained much production from the Tight End position.  So, as we look forward to tonight's game, the primary keys to the game will be as follows:
1)      Can we stop the run?
2)      Can we avoid getting beat deep in the passing game?
3)      Can we mount enough pressure and coverage to exploit Hogan's weaknesses in the mid-range passing game?
Now, in response to those three keys, a few words about our defense.
First and foremost, the CAL team that we faced last week was much better offensively than many of us recognized.  And the reason for that was not only the speed, depth, and skill they demonstrated at the Wide Receiver position, but also the exceptional play of their young star quarterback, Jared Goff.
But, in addition to Goff, the other key factor of the game concerns our play at Safety. Simply put, our entire defensive backfield looks one way when Hameed is in the game (pretty good) and another when he is not (pretty bad).
The other key factor about our defensive play concerns the setting in which the game as played.  Meaning:  Our defense tends to play one way at home (bad) and another way on the road (pretty good).  Want proof?  Well, over the past two seasons of conference play, do you want to wager a guess about the average number of points we allow at home versus games on the road?
(Drum Roll Please).
The answer:  We've allowed 49.5 points a game at home (in conference) over the past two seasons.  In contrast, we've yielded an average of only 28.2 points per game (in conference) on the road.  And if you want to take the high (Oregon in 2013) and the low scores out of that analysis (USC in 2013), we've yielded an average of an even 25.0 points per game in conference road games.
(That means we've given up nearly twice as many points per game in conference home games than we have on the road!)
So, although it's really tempting to think about last week's game and imagine a total horror show, the fact of the matter is that there's good reason to believe that our defense will hold its own tonight.  But to do that, we're going to have to play nasty up front and we're going to have to get really solid and physical play from our back-up defensive lineman (who will need to play to keep our starters fresh for the second half).
And then we're going to have to get exceptional play from whatever linebacker or safety that is assigned to Devon Cajuste—who represents the best and biggest life-raft for Stanford's struggling mid-range passing game.
+++++
And then we get to our offense.  A unit which has been unstoppable by any team not wearing black and white stripes.
But tonight, our record setting quarterback will face a team that has the longest active streak in holding the opposition under 30 points.  And if that wasn't enough, consider that the Cardinal have only allowed 43 points in the entire season! (As a comparison, we allowed 47 in the second half to CAL).
So, it stands to reason that points are going to be difficult to come by for most of the game tonight.
Now, to the Keys to the Game (Offensively)
Second and Six
In order to win the game tonight, we're going to have to get plus yardage on first down.  So, even thought I recognize how and why the fly sweep is important for spreading the field (Okay, maybe I don't) tonight might be a good night to put that play to bed.  Instead, we're going to need to hit them with a heavy dose of quick slants and bubble screens.  And when we do that, we need to:
Be Relentlessly Physical at the WR Position
Stanford is going to press our WRs all night tonight and are going to send safeties and linebackers to the outside to try to crush our WRs as soon as they touch the ball (BTW: Stanford leads the country in fewest amount of yards after the catch).  So, if our short passing game is going to work, our WRs are going to have to have violent hands and they are going to have to do a great job blocking for each other without penalty.
Toward this end, Ricky Galvin was a real game changer in the Utah game with his blocking on the outside.  With RG5 injured, Robert Lewis and Calvin Green are going to have to take their games to an entirely different level.
Don't Settle for Field Goals.
By now, we all know that our kicking game stinks.  But beyond that, when we get in the red zone, we simply cannot settle for field goals—we'll need to go for it all the time.   Think about it this way, if we're successful in scoring a touchdown one out of every two times in the redzone, that yields more points that being successful twice in scoring field goals.  So don't kick it—at least not until the end of the game!
No Turnovers in Negative Territory
To date, Stanford has fed off of creating turnovers deep inside their opponent's territory.  So, if Connor or one of our own playmakers is going to turn the ball over tonight, it would be nice to do so inside their 40 yard line.  To this point, while losing points is never a good recipe for winning football, it's much more problematic to give Stanford easy opportunities to score.  We want and need them to press tonight.
Don't Panic
While getting off to a quick start would be nice , what's most important is to recognize that if Stanford gets ahead, their M.O. is take the air out of the ball.  Meaning: That while Stanford may be really hard to score against, they are also the type of team that you can come back against because their offense often has a hard time scoring. So, if we get down in this one, we cannot panic.  Truly, this game is all about "do your job," "one play at a time," etc., etc. and so forth.
Over-Unders
Will Halliday throw for over 400 yards (Yes.  Tuel threw for 401 when Stanford had a much better defense. So, I'm thinking he'll be right around 460 for the night).
Will our RBs amass 100 yards (No.  In fact, if Morrow tries to run east-west like he did against CAL—also without success—we might be held under 30 yards.  I'm thinking 55, most of which will need to come from Wicks).
Will we score over 35 points.  (No.)
Followers, tonight's game against Stanford, together with the game against Arizona (which comes off a bye week) are going to be the most difficult games to call this season.  Moreover, because this game is so critical to our bowl hopes, it's hard to keep my emotions at bay when coming up with my pick.
But, at the end of the day, I have to trust my eyes and believe that past is prologue.   Meaning, this team plays much better defense on the road than it does at home; while the offense now has confidence that it can mount game winning drives when it needs to.
So, we're going to call this one 28-24 Cougs.  And we'll all head to the bye week with our bowl hopes very alive.
Enjoy the game folks–what a great opportunity for our program and our exciting offense!
All for now.  Go Cougs.