Happy Thanksgiving (one day early), Followers! Hope you're all gearing up for a nice day of food, family, and friends!
As for me, well, today happens to be me old birthday. And, in celebration of that cataclysmic event, I decided to bust out my favorite birthday attire….
…take a few selfies, drink a midday cocktail, and then hum a few bars about the Cougs.
So, if you're interested in some takes that follow a two martini lunch, then click on the old jumperoo…
(Continue Reading)
++++
Followers, much has been written this week about the importance of last season's Apple Cup victory for this season's fortunes. And who can argue with that? I mean, if you include last season's game in this season's totals, the Cougs would stand at 5-4 in conference. And when you take a step back and think about that for a minute, well, it becomes pretty clear that we have established ourselves a legit second tier team in the conference. And when you consider that we were THE doormat in the conference heading into the Apple Cup one year ago, that's serious, serious improvement.
So, no matter what happens on Friday, I think we can all take solace in the fact that this season has been a tremendous success. And we need to hold onto that belief as we enter Friday's stormy seas.
That said, although I think that Washington should be considered a heavy favorite in this game, there are a couple of key points about last year's contest that have been lost in the shuffle. The first has to do with the our 18 point comeback. To be sure, that effort was a thing of beauty—one which will go down in the Annals of Cougar Football History as one of our greatest comebacks ever.
At the same time, I think that it's important to emphasize HOW we found ourselves in an 18 point hole. Namely, while the Dawgs should be given credit for converting on our mistakes, the fact of the matter is that the Huskies' scoring drives were facilitated by WSU turnovers that were largely unforced. Two of these turnovers came on interceptions that followed drops by our receivers (including throws by Tuel that were right on the money), and another followed a Bobby Ratliff fumble that was made in the semi-open field.
And so, when you consider that Washington had only 269 yards of total offense that day, it becomes easier to see that our victory had virtually nothing to do with a Husky collapse—it resulted from the fact that we were a much better team! I mean, if I were to tell you right now that we are going to hold the Huskies to under 300 yards of O on Friday, not only would you probably think we would win handily, you'd probably think that we held them to under 17 points!
And so it should have been last year—we should have won that game 38-17 (or some such)
++++
So, even though we dominated the Dawgs for much of the game last year, the fact of the matter was that we had to score 18 in the fourth quarter just to tie it. And the reason why we were able to do that was because the Huskies defensive backfield—which included a first round draft pick in Desmond Trufant—simply could not cover our receivers. (sound like last week to you?)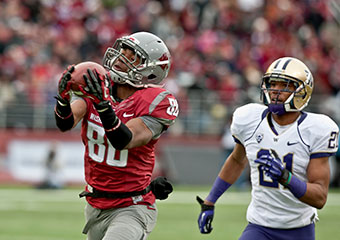 You see, a big reason why the Huskies are so good against the pass is because of their aggressive style of play. Like Utah last week, Washington's D does a great job of putting teams in third and long. And when they do, they set loose guys like Shaq Thompson (who should be an All-American next year) who just destroys running backs and quarterbacks.
He's really special.
But the other thing the Dawgs do on defense is provide really, really aggressive press coverage on the outside. I mean, they bump, they bruise, and THEY HOLD!
And while they tend to get away with that type of play at home, it often doesn't work very well on the road. And when it doesn't the Huskies defense just isn't very good.
Last year, we saw the effects of what happens to the Huskies when they aren't allowed to grab and hold our receivers: THEY HAD 18 PENALTIES FOR NEARLY 130 YARDS.
And so, beyond the play of our defense, the main key to the game on Friday will be the way that the Pac-12 "officials"—including the infamous "Glasses Ref"—decide to call the game.
IF they allow UW to bite, grab, and claw on the outside, it could be a long day for us. However, if they call the game straight, then the Dawgs are going to have a really hard time covering us. And, the shoot-out will be on.
But to get the game called our way, Leach is going to have to work the officials hard. And guys like Myers, Mayle, and Kristoff Williams are going to have to be physical as all hell early and late.
The outcome of the game will depend on it.
Okay, that's all the time I have for today. I'll be back Friday for my final game pick.
Have a great and happy Thanksgiving.
Go Cougs!