This week marks the final home game for what may be our first memorable senior class in quite a long time. Its been six years since we last honored a senior who knew what it was like to play in a bowl game and this years group has played itself into position to end that drought. Last week I asked this team to "show me something" and they sure did, getting their 3rd conference road win in Tucson and coming up with clutch play on both sides of the ball. it was a cathartic win, but I'll tell you what… I'm still not satisfied and I don't think this team is either. Just 2 short years ago I sat in a blizzard in Martin Stadium with just a hand full of hearty fans and watched our bowl hopes, and the jobs of our previous coaching staff, evaporate in an overtime thriller. It snowed harder than the Bledsoe Apple Cup that day and at every stoppage of play ROTC cadets made desperate attempts to shovel off the yard lines from sideline to sideline. It was mostly a futile effort. It seemed like all the Cougs efforts were futile that day too. Connor Halladay playing through a lacerated liver, Marques Wilson catching a last second pass right at the snow obscured goal line and ruled down at the inch line. It just felt like there was nothing we could do to get that elusive 5th win. Two years later we are getting set to face the Utes in late November again. Once more bowl eligibility is on the line, but this time we already have win #5 and the Utes limp into Pullman without their starting QB on what looks to be, if not a warm day, at least a sunny one. So this time MUST be different, right?
The altitude must have shrunk my head.
Longballs Locks:
By now you've either heard the talk about Utah being the best 4 win team in the country, or you just returned from your mission to deep space and the WSU Football Blog is the first thing you read. Either way, they probably are the best 4 win team in the country. They are also one of the teams with the most conspicuous drop off in performance between their home and away games. Now their starting QB, Travis Wilson, is sidelined indefinitely with an injury that could end his career, so between that and the fact they're on the road its advantage Cougs, right? Well lets just pump the brakes a bit on the bowl eligibility victory parade and consider that first little thing we mentioned… the Utes are the best 4 win team in the country. Oh yeah, THAT. Last week the Utes were well on their way to shedding all those doubts about their road prowess as they found themselves squarely in the middle of a very competitive game in Eugene. I'm sure we all saw that coming. So after a monster effort just to still be in a game with the Ducks in the 2nd half, do they have enough left in the tank to put a major hex on the Cougs bowl hopes in Pullman? I really think we're going to get their best shot, and it will have us wringing our hands late into the 2nd overtime where we officially leave 10 years despair behind us with a Daquawn Brown interception in the end zone followed by an Andrew Furney field goal for the win.
Cougs 43, Utes 40 (2OT)
And around the league we go…
Oregon 48, Arizona 10
Oregon is, once again, playing for the roses and even an outside shot at the natty. Arizona is trying to recruit a QB.
Stanford 33, Cal 14
Cal is just outclassed in the littlest Big Game in a lot of years.
UCLA 28, ASU 24
Myles Jack puts a stranglehold on the 2014 Heisman scoring TDs on both offense and defense in a monster Pac-12 south matchup. UCLA vs USC looms larger and larger.
USC 38, Colorado 7
I'm not sure that USC will lose another game. I am sure if they do it won't be to the Buffs.
UW 41, OSU 35
I think it will be a shoot out, but I think this is how Sark gets his traditional 7th win since we're obviously winning the Apple Cup.
Enjoy the games, folks, and Cougs!
SeanHawk Sez:
Greetings Cougs, and a happy Football Friday on Thursday to you and yours. So we steam into the final home game of 2013, and there is new life after a huge win last week in Tucson. I mean the die-hards swear they saw it coming, and sure enough they were right. I was among the doubters and I have apologized for being wrong to anyone/everyone who would listen.
Anyway, lately the home cooking in Pullman? Not so good, ala taking a bite of a big-ass burger only to have it drip all over your Sunday best. Per Bud Withers from today's Seattle Times:
It seems so teed up for the Cougars. Utah is 1-6 in Pac-12 games — albeit a rugged, grudging, hard-nosed 1-6 — and the Utes have lost their dual-talented starting quarterback, Travis Wilson.

And it's at home, in Pullman.

Uh-oh.

Gnaw on these numbers a bit: The 2013 Cougars are 3-1 in Pac-12 games on the road. But in their last 24 conference games in Pullman, WSU is 3-21.

Or say it this way: Mike Leach's current team has won as many league games on the road as the program has won at home in the Pac-12 in the four years of the Paul Wulff regime and two years under Leach.

You know, the home-field disadvantage.
Great. So even when things are "teed up", as Withers puts it, it's still not looking good….I guess? And if you do click over to that article, do yourself a favor and DO NOT look at the comments. For the Seattle Times comments section is a complete cesspool of miserable shut-ins who have nothing better to do than take pot shots at WSU, as the lowest common denominator continues to reach for the low-hanging fruit. And when the Times runs the picture that they chose to run as the lead for their sports page today, is there any doubt the Blethen family newsletter/Seattle Times loves to hate good 'ol WSU!?!
Still sore after the 2012 Apple Cup, perhaps?
Here's the way I am looking at this week's game, and looking at it from the most basic level possible – WSU has 5 wins, already 2 more than Leach's first year and the most we've tasted success as a fan base in a single football season since 2007. Utah hasn't won a football game outside the state of Utah this year, and in fact didn't even LEAVE their home state until October 19th this season (and I think I might be the only one baffled by this, but how does a team open a season by playing 6 in a row in their own state?). And in those 3 games that they've played – AND LOST – outside of Utah? They came out on the wrong side of the scoreboard by double-digits, including a 35-24 loss at Arizona, you know, the team WSU just beat on the road by 7.
Add in the fact that Utah's dangerous/streaky/talented QB, Travis Wilson, is done for the year at the very least and WSU faces a backup QB making his 2nd-ever start? And in Utah QB Adam Schulz's playing time this year, he is only completing 46% of his passes, and isn't really a huge threat on the ground with his legs either and not nearly the raw athlete like Wilson? As Withers said above, this thing really IS "TEED UP" for our Cougs, isn't it??
There are a couple of other things that I think are bigger motivational things that common folk like you and me may not realize, but I think they might be big here:
1) Connor Halliday's lacerated liver, remember that one? Utah, in Pullman in 2011 in a wild one that came down to an OT field goal in the snow, as the Utes prevailed 30-27. Utah would dance-n-prance and make snow angels after winning it too, and I'm sure the Cougs who were there remember the scene after the game with the highly controversial finish in regulation where what looked like a TD pass came up just short of the goal line.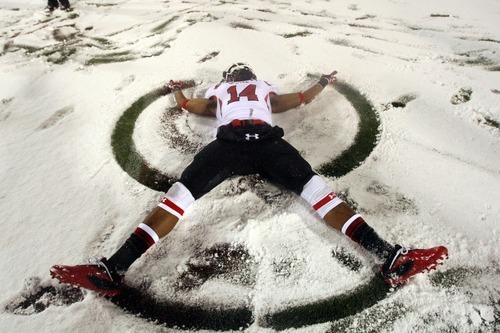 But in the process of that game, Utah beat the crap out of poor Connor as the WSU offensive line was completely overmatched by a good, physical Utah defensive front. It's pretty amazing that Halliday was able to get that thing to OT, even with the poundings and mistakes and whatnot. But that game has to have a place in Halliday's memory bank, and you better believe there is some motivation this week in #12's head when he thinks about it.
2) Last year's loss to Utah on the road was, without question, the low point of 2013. And I say that even while I acknowledge the Colorado loss early in 2012 was horrible! And it wasn't just what happened on the field in a 49-6 humiliation, but it was what happened off the field that was just as disturbing as that was the game with the altercations in the locker room with a former WSU coach. That game and the experience ultimately led to Marquess Wilson quitting the team the following day.
So now here we are a year later, and a chance to bury the past and live in the now, all at the same time! Utah's a wounded animal, but they can still get to 6 wins if they beat WSU and then Colorado to wrap up the regular season, so it's not like there isn't anything to play for. And I'm sure many in Ute-Ville have circled this game as one they "gotta get" on the road this year, and as the Pac-12 losses have mounted the importance of this game has only grown larger by the week.
But I say this – knowing everything we know right, and after how both teams look coming in to this game? WSU SHOULD win. I know Vegas has it as a 1-pt Coug favorite or somewhere in there, so essentially it's a toss-up. But as much as Utah looks at playing in Pullman as one they "gotta get", I can't help but feel the same thing as a Coug fan when I look at Utah limping in to Pullman at this point of the season.
And you know what else? If the Cougs can't win this one and Utah wins the following week to get to 6 wins? Then WSU doesn't deserve it. A bowl team wins a game like this, while a team home for the holidays, well, they don't.
I have picked against WSU for many games this year, in fact I only picked the Cougs to beat Idaho, Southern Utah and Cal in 2013. But I have a decent feel on this one, and I believe WSU pulls it out. Cougs win it 30-21.
The rest of the story:
Oregon 40, Arizona 23
Weird for both teams, as the Ducks are back in control of their Rose Bowl fate while Arizona was flat as can be as they were shocked by our Cougs. The Cats will be jacked for this one but too much Oregon over 4 quarters, even with a wounded Mariota at QB, will see Oregon pull away late.
Stanford 54, Cal 17
Sucks to be Cal, doesn't it? You'll find NO SYMPATHY around here though, as I remember all too well how Cal got fat-n-sassy on WSU's carcass in recent seasons. Payback's a bitch, hello 1-11!

ASU 35, UCLA 24
Really, really, REALLY like ASU here. And I agree with what Sutra said the other day, it didn't feel like UCLA played all that well vs UW but still put up 41? I have a feeling ASU takes care of business.
USC 47, Colorado 20
Big Ed O still driving the bus towards his hopeful full-time gig. It won't happen though, much to the chagrin of some of the SC fan base. USC is going to hire a big-time name and that name is not Ed Orgeron. But he's done a hell of a job in a weird situation.
UW 31, OSU 24
UW circles the wagons and beats a not-very-good OSU team in the "Frustrated Bowl" per Ted Miller, as the Huskies bring the noise vs. Sean Mannion and he continues to look extremely ordinary vs. decent pass defense (Mannion in his first 6 games? 29 TD's, 3 INTs. Mannion's last 3 games? 4 TD's, 7 INT's, all losses). Meanwhile Keith Price starts and plays well in the Apple Cup tune-up.

All for now. ENJOY THE GAMES, and of course, GO COUGS!