Hello Followers. Hope you're doing great.
As for me, well, the last several weeks of this has pretty well taxed my ability to become the super-human blogger that I almost entirely never am. But today, I am back in the saddle...
After the jumperoo, I will offer the most incredibly poignant analysis of the state of Cougar basketball that has graced these pages since yesterday...
Read on.
++++
Followers, those of you who have read this blog for a while know that I haven't been a big fan of our coach, Mr. Ken Bone.
But, in spite of the fact that I haven't been a central—or even peripheral--member of his fan club, I have rooted for us to do well over the years. And a good part of that "good spiritedness" has been reflected in my pretty consistent commitment to stay up late into the wee hours of the morn to watch us play on the tee-vee.
But this year, things have changed for me. Now, instead of staying up late to watch our team, I've been falling asleep before (or not long after) tipoff. And, on weekends, I have gone out to movies with the brood instead of watching games that would have otherwise captivated my time and interests in years past.
Of course, none of that should trouble Ken Bone and the other Banshees who help constitute Bone Nation.
But what should trouble Bone and his supporters is as follows: I am far from alone in my apathy. For instance, all it took was a quick look at my Twitter feed on Saturday night to see that virtually NO ONE was commenting on the WSU-UCLA game. Even more importantly, the Cougcenter.com game thread—which usually has 700 or so comments for each contest—now routinely has less than 60. And attendance? Well, let's just say that a lot has changed since the higher points of the Bennett years.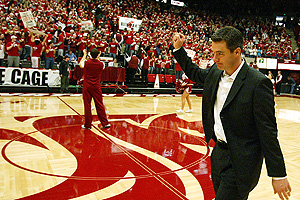 ++++
Of course, Bill Moos is not blind to apathy that currently surrounds Cougar Hoops--an apapthy that LucasCoug and Huddy have recently coined as the #KenBoneEffect. And, in his weekly Cougar Calls show aired yesterday, Moos sent out an endorsement of Bone that made the word "tepid" seem ice cold. As noted by Cougcenter, this morning:
Asked point-blank if he has decided if Bone will be retained or let go after this season, Moos said, "No."
He added, "At the end of the day, I'm the one responsible for making those decisions, and it's never easy."
Asked if money alone will impact his decision on Bone's future, Moos said, "No."
With this quote firmly in mind, it's now fair to say that we're in the final countdown of the Bone era of Cougar Basketball. With the Cougs now sitting in the cellar at 2-9, we're going to have win 5 out of the next 7 to give Bone a decent shot at returning next year. And based on the play we've seen so far, I think we all know that just isn't going to happen.
And yes, I know that next year's team—who will be comprised entirely of Bone recruits—figure to be much improved. But that is typically when an AD wants to pull the trigger—when the new guy has a chance to succeed right away. And nothing would do more to bring energy back into Cougar hoops than to put a different face on a program that was in the Sweet 16 not so long ago.
In the meantime, here's to hoping that our boys and Bone can find a way to right this ship starting tomorrow night against the equally as hapless Oregon State Beavers.
But, like many of you, I'll probably find myself reading about that game instead of watching it. And therein lies the problem of the current #KenBoneEffect.
All for now. Go Cougs!