Football Friday on a Thursday - Week 3 of 2012; Mum's the Word!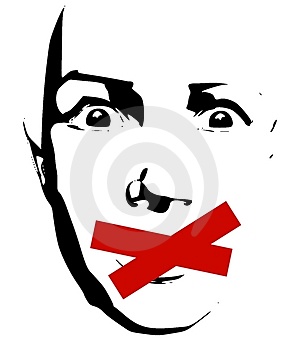 Move along, there's nothing to report on here.
That's right, its Football Friday (on a Thursday) and forgive us for being a bit late this morning. We've been busy combing through the most recent media guidelines handed down from on High ("on High" being USC and UW) to make sure that making a few predictions doesn't get our tickets to this weekend's game yanked. Turns out since we are not real reporters, we're totally safe. Holler. I woke up this morning more thankful than usual that I'm not in the P.R. department for the Huskies or Trojans. With that let's get on to this week's picks...
Longball's Locks:
As Coug fans living in the puritanical wilderness of Utah, you can only imagine how excited Amieable and I are to slip away to Vegas this weekend. Of course all that excitement is dampened a bit by the realization that this was my best chance ever to don the Cougar themed Elvis costume I've always dreamed of. Too late for that now, damn. As far as the game goes, I am not nearly as tied up in knots as I was last week. Through the first two weeks we have been buggered by tons of mistakes and we need to clean those up, but good lord have they been costly. We have had a season's worth of touchdowns taken off the board and Bucannon's late (late, late, late) hit last week helped add a score to the board for the Eagles. I mean, teams make mistakes early in the season, but it seems like every mistake we make is a major game changer. I cannot believe that will go on forever. Still, bad things happen, but how you deal with them is what will end up defining your season. So far, Coach Leach seems to feel we are too fragile, unable to bounce back when things don't work out for us. I agree with him, but only on one side of the ball. I feel like our defense has really held the line in the 2nd half the last two weeks, despite almost nothing going right for them. This weekend, I expect Halladay to bring a renewed swagger to the offense and the defense will continue to build on the two promising performances so far. It won't be like last year, but It will be more comfortable than the final score would indicate:
Cougs 35, Rebels 17
And around the horn in the Pac-12:
Ohio State 33, Cal 21 - Really hard to imagine Cal is going to sort out their issues in the Horseshoe.
Oregon 187, Tennessee Tech 10 - The score is only this close because the Ducks take their foot off the gas late in the first quarter.
Washington 44, Portland State 14 - PSU just fired their D-coordinator. Washington knows just how they feel. I expect the Dawgs to take out a lot of frustration on the Vikes.
USC 28, Stanford 14 - USC just lost their starting center, Stanford no longer has Andrew Luck. I actually expect this game to be close and ugly until USC imposes its will on the undermanned Cardinal and pull away late. This matchup has really become "can't miss television" the last few years.
Colorado 24, Fresno St. 21 - The Buffs get a much needed win on a last second field goal. You know how in Major League they had a cardboard cutout of the bitchy owner that they got to strip a piece of her clothes off for each win? The Buffs now have one of those for Huddy. Each win, they take a limb. Most of us expect him to still have both legs by seasons end.
BYU 42, Utah 21 - This has the makings of a blow out all over it. State bragging rights will shift completely over to 'Y'... that is, until the Aggies beat them in Provo in a couple weeks.
Arizona 45, South Carolina St. 10 - This is Zona's tune up for Oregon, so don't expect them to give away too much.
UCLA 38, Houston 24 - Maybe a bit of a let down risk for the Bruins after their biggest win in quite a while last week. Still, Houston looks dreadful.
Missouri 33, Arizona St. 28 - Sun Devils will have to "slow their roll" just a smidge, but no shame, Columbia is a tough place to play.
That's it folks, see you all in Vegas and GO COUGS!
Lucas Likes:
Ohio State 38 - Cal 31: The Bears have lost at home to a decent Nevada squad, and then allowed a Southern Utah team to put up quite a few points on them. Going into the Horseshoe and getting a win is never an easy thing to do. Cal is definitely one of the league's more disappointing teams through Week Two.
Oregon 70 - Tennessee Tech 17: What else do I need to say?
Washington 42 - Portland State 20: Well the Dawgs get a chance to add a bit of confidence before Stanford, USC, and Oregon rip it to shreds and urinate on it, a la Lou Brown on Roger Dorn's contract. The UW infirmary report is getting long. Hope some of those injuries don't linger.
ASU 38 - Missouri 24: Did anybody else see that sign Georgia players held up after dismantling the Misery Tigers last weekend. It read "Big Boy Football"
USC 34 - Stanford 27: I know the Cardinal have won quite a few consecutive games over the Trojans, but I just have a hard time seeing that happening right now. It was nice to see Stanford route Duke last weekend, after nearly pooing the bed last week.
BYU 30 - Utah 17: I think most of us would have pegged the Utes to be the better of the two schools about three weeks ago, but Utah State showed the country the Utes have an awful OL, a China Doll QB, and a defense that may have been a bit over hyped. Last week I compared Utah to the Seahawks (good ground game and good defense), guess neither are like one another!
Fresno State 35 - Colorado 9: Weren't people saying the Buffs had a shot to roll into Pullman at 3-0 next weekend? I couldn't have been the only one in our Pick Em League who correctly predicted the Sac State upset, could I? COLORADO SUCKS.
Arizona 63 - SC State 10: I don't think a ton of people saw that Okie State beat down at the hands of Zona and Rich Rod last week. They're definitely an early season surprise. I couldn't even name the SC State mascot. This should be a massacre.
UCLA 49 - Houston 28: Jonathan Franklin has officially thrown his name into the early season Heisman Watch. It's nice to see James Mora rack up about as many wins in two weeks of being a college coach, as he did in 17 weeks as the Seahawks Coach. Their win last week flat shocked me.
Wazzu 42 - UNLV 17: After a rough week of conditioning for a multitude of mistakes last weekend, Conner Halliday and the offense come out firing on all cylinders. Suddenly, we have a QB Controversy in Pullman. As was alluded to on this here blog earlier in the week, giving the reins back to Tuel, might not be in the program's best interest. It really pains me to write that last sentence, by the way.
Soze says:
Its Football Friday on a Thursday Vegas style this week, and guess who's here to ruin it for everyone?!
It's me, Soze! (I'm not as greasy, but just as annoying)
I'm writing this post Thursday morning in the undies, barely able to contain the excitement for my flight to McCarron later this afternoon so bare with some of these picks as they could be clouded with ... well, whatever is currently clouding my judgement.

Ohio State - 38, Cal - 20 The hot tub is getting warmer and warmer for Tedford and its almost ready for him to jump in. I haven't watched any Ohio State action this year, but I know this: Urban Meyer is a winner and Jeff Tedford is something else.
Oregon - 63, Tennessee Tech - 20 Like last week, Oregon will probably score 50 before half-time and then just cruise in from there. I can't believe we didn't get this Mariotti kid with the Gesser lineage. C'mon recruiting staff!
Portland State - 3, Washington - 0 Why? Because screw the Huskies.

Missouri - 34, Arizona State - 20 The Devils have looked impressive in the 1st two weeks, but I'm not buying it. Now that they've got an SEC team that is built around big and fast defense -- wait, what?!... this is MIZZOU -- haha, they are going to get rolled in the SEC! But not in this game... the Tigers have just more talent. And Todd Graham is interested in any SEC coaching vacancy that might be available.

USC - 45, Stanford - 28 As I said earlier, I'm heading to Vegas shortly and this game seems to be the game that everyone else is talking about as far as the betting line goes. I'm baffled as to how and why this line is only 8.5 points in USC's favor? I will most likely lay some cash down on this one, and then proceed to drinking and not watching because I think this one could be close throughout with USC pulling away at the end. My basis for this theory? I don't have one... I just don't understand the line, but Vegas are better than creating them than me.

Fresno State - 30, Colorado - 14 Do I really have to pick this game? Fine!

BYU - 27, Utah - 20 The Cougars (they are not Cougs) had better pull this one out, because we need them to be ranked in the Top 15 sooner rather than later... I was impressed when I saw BYU beat us, and I wasn't that impressed when I saw Utah State (whatup Longball) layeth the smacketh down on Utah last week.

Arizona - 45, South Carolina State - 14 As I said last week, 'Zona is still overrated, but they should be able to handle SCSU handily. If not, well, then I'm right and 'Zona is overrated.

UCLA - 44, Houston - 37 Speaking over overrated teams... hi UCLA. But there's nothing to see here, as I don't think Houston is much good either. Points in this game, sure... but I think Houston covers late.
And finally...
Your -- WASHINGTON. STATE. COUGSSSSSSSS!
WAZZU - 70, UNLV - 13 I don't think it matters which QB leads this team down in Vegas, we'll have a packed house full of Cougs (based on Facebook, I think this could be a Cougars home game circa 2008... lots of empty seats and lots of Cougs spattered about) salivating for points. I think this is the game that our offense finds its rhythm and finally lights up the scoreboard. If I'm wrong, oh well. We'll just do it Homecoming against Colorado.
I would have more analysis but my flight leaves in a few hours and I've got to get started on that buzz! GO COUGS, and see everyone down in the flood watch state!!
P.S. Remember, we're ALL Cougs down there as well... so be safe and take care of each other!