What's My Line?? (Part Two)
Happy Friday to you, Followers. Hope you're all gearing up for a great June weekend!
Today, we continue to take a page from Mr. Bob Condotta's playbook by predicting the Vegas lines for all the games in the upcoming season.
In this post, we provide lines for the second half of the 2012 Cougar Football season, paving the way for even more fun blog fodder next week
(We have a VERY special feature coming..just so you know...)
Of course, in order to get to next week's fun, we need to finish off this week first…So, take a leap of faith…okay???
++++
Followers, before we get to the predicted lines for the season's second half, let's revisit the caveats from yesterday.
First and foremost, you all should remember that I AM NOT PREDICTING WHO I THINK SHOULD BE FAVORED; nor am I predicting whether or not I think we'll win any of these games—that comes in July and August. I am only predicting what I think the line will be given what we currently know about us as well as the other teams on our schedule.
So with that all in mind, off we go to the season's second half..
Game 7. CAL
This could be a really good one. If things go well to very well for both teams, this could very well be a match-up of 4-2 or 5-1 teams. To be sure, WSU will benefit from what should be a second Martin Stadium sell-out. But, given the strength of CAL's defense as well as their running game, a WSU win here would qualify as a mild upset. CAL by 2.
Game 8 @Stanford
Hard to know what we're going to see with the Trees. By this game, Stanford will have faced Washington, USC, CAL, and Notre Dame. And, given the loss of Luck combined with a VERY questionable secondary, Stanford could be a three or four loss team at this point of the year. But I don't think that will be the case. Here's to thinking that the Trees will be 7-1 at this point and they, along with Vegas, will be thinking about BCS possibilities. Stanford by 14
Game 9 @ Utah
Lots of speculation by our friends at the ESPN Pac-12 Blog that Utah has an outside chance at winning 10 games this year. At the heart of that speculation is a staunch belief not only in the quality of their coaching, but in the tenacity of their defense. While the blog-o-sphere can count me in as a believer in the Utes, this game falls between really tough contests against CAL and @Washington. What's more, when you factor in that WSU put 27 on this group last year in the snow…well, Vegas is going to keep this one close. UTAH BY 4.
Week 10 UCLA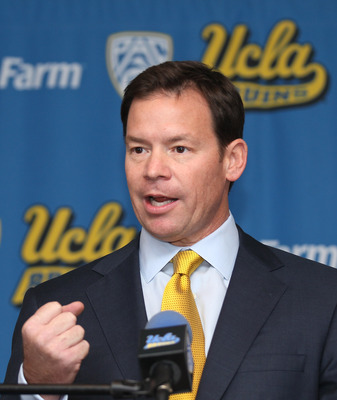 Yesterday, after favoring the Cougs against Colorado, I wondered if the CU game would be the last time we'd be favored for the entire year. The answer? Nope. Although I think UCLA has a chance at surprising folks, Vegas will believe that their new 3-4 will not phase the Air Raid--not after being tested by CAL, Stanford, and Utah in the weeks prior. WSU by 4.5
Week 11 @Arizona State
Let's see, ASU has no quarterback, tons of questions on defense, a new coach, new schemes, and the burden of Chris Ball to boot…I mean, how in the world are they going to be anything but 2-9 at this point in the year? Well, apparently, folks think that ASU will be pretty decent this year in spite of all the comings and goings. What's more, last I checked, if Jason Gesser isn't playing quarterback, WSU loses in Tempe. ASU by 2
Week 12 Washington
As Yoda says, "Always emotion with the Apple Cup, it is.."
But, if we dare take a 30,000 ft view of this game, I think its fair to assume that bowl eligibility could be on the line for both teams in this one. And, if both teams come in swinging for mediocrity, the nod is going to go to the team that has the better defense and running game. And Vegas thinks that will be…UW by 2
So, there you have it. The WWWAAAYYY too early Vegas lines for 2012.
We'll be back next week with some additional, tantalizing blog fodder for the faithful.
Enjoy your weekend. And Go Cougs!