Wrapping Up the Week That Was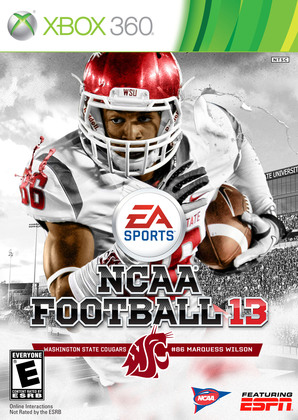 Happy Friday Cougs, and here's hoping all is well in your world as we wind down another week.....and in the process, take another step closer to the start of the 2012 season! Today is a good day to take a look around at the week that was, so, let's get started....
Anyone take the NCAA '13 plunge yet? As much as I love to play the NCAA games when I get the chance - and those days seem to be dwindling the older I get - but I have to admit that I am taking a "pass" for now on the new release from EA Sports, which just launched on Tuesday. Like many I downloaded the demo to my XBox 360 and while I enjoyed it, I don't know. There are some pretty decent improvements from what I saw, but it didn't really "move the needle" to get me to make the purchase, know what I mean? It just seemed more like a patched version of NCAA Football 12, like maybe they could have called it NCAA Football 12.5? Or maybe NCAA Football 12, v 2.0?

Anyway, there are some reports of some glaring bugs in this year's release, such as safeties on defense who are beyond atrocious in their inability to cover the deep ball, and even at times have been spied literally running OFF THE FIELD of play! I hear the Air Raid/WSU offense is fun to run though, and the famed Four Verticals and throwing deep to the slot receiver just eats up the opposition, again and again and again. And there is another reported issue where the CPU will call about 15 screen plays a game, and the vast majority of the time the QB fails to throw the ball in time, leading to an outrageous number of sacks and batted down pass attempts in the process.

But of course, there are also complaints about the usual stuff - uniforms are wrong, stadiums are outdated, etc. Did you know they've had UW's home jersey wrong for the last three years now? And if you are curious, they don't have the new Martin Stadium additions with the luxury seats, painted end zones, or even the Pac-12 patch on the jerseys or the correct gray helmet/gray facemask combo for the Cougs.

That said, I do think the custom covers are pretty cool, as pictured above with Marquess Wilson or with Jeff Tuel:



Kind of cool, I guess? Some good photoshop work by people with skills and the time to do such a thing. Anyway, I think I'll wait and see how the community embraces the first patch, and maybe I'll pick it up used down the line.


Mike Leach was on the radio again. He called in to Kevin Calabro's show on Wednesday to talk about the usual Leach stuff, and since it's the offseason he definitely went in a few different directions! Check it out (and if you can't view the embedded player, hit the link here):





Finally, the Penn State scandal. It was horrendous and incredibly sad when the news first broke, but it at least seemed like with the Sandusky trial now over and that sick S-O-B is going to essentially spend the rest of his life in prison, that there was a bit of closure to the whole thing. But now yesterday it feels like it is 10x worse. Concealing facts of child rape because you are afraid of bad publicity?? What a horrible situation for all involved, and you just don't even know what to say about it. Jeff Nusser over at Cougcenter had a good take on it yesterday, so check it out.

Personally I just can't imagine what the typical Penn State fan must be going through right now. Their superstar head coach and Hall-of-Famer in Joe Pa was already taken to task last fall about everything that happened, and then he of course lost his battle with cancer in the process. Now all this stuff comes out about coverups and basically absolute power being totally corrupt and in serious C-Y-A mode while kids were being abused?? It's pretty much the worst thing imaginable.

God forbid, but IF this whole scandal had happened at WSU, I know one thing for sure - as someone who went to school at WSU and a fan of the team in general, I would take the death penalty for a year. Just shut it down and cleanse the soul of the program, from the administration to the coaches to the players, all the way down to the ticket-buying fans. It's harsh, and 99.99% of the people you are punishing with that type of action are completely innocent of what happened in the first place. It doesn't sound like the fair thing to do to those who did nothing wrong. But it might be the only way to recover from something like this and one day rise again from the ashes of this disgusting display of corruption. Not that you can ever really make this whole thing "go away", but time can heal some pretty deep wounds. Come back in 2013 and leave this horrible past where it belongs - IN THE PAST. And I know I'm not alone in those initial reactions, there are plenty of columns all over the web the last couple of days calling for the death penalty. But I have to admit that if I were in the shoes of a Nittany Lion this morning, I would be OK with the idea.
That's it for a Friday. Enjoy your weekend, hopefully spent on a beach somewhere, and as always, GO COUGS!