Three Questions with Cindy Brunson
Happy Thursday to you, Followers! Hope you are having a great week!
Today, we continue our Epic mini-series known as "Three Questions."
In the event that you missed a previous installment in the series, you can find previous episodes, as well as future special guest stars in the space below. Also, please note that the schedule has changed a bit since last week. In fact, we are very proud to announce that Doug Haller from the Arizona Republic will serve as a special guest star two weeks from today!
So there!
June 14th: Brock Huard
June 21st: Bob Condotta
June 28th: Ted Miller
July 5th: Howie Stalwick
July 12th: Cindy Brunson
July 19th: Brian Floyd
July 26th: Doug Haller
Aug. 2nd: Bruce Feldman
Today, our special guest star is the crown jewel of Washington State University. So, as you click on the jump, please join me in giving a standing ovation to WSU Graduate and Sportscenter Anchor supreme, Cindy Brunson. (read on)
++++
Followers, those of you who have been something other than a casual visitor on this here earth are well aware of Cindy Brunson's story. Her career began doing weather at KHQ-6 in Spokavegas.
From there, she took her brilliance right past Umatilla and my previous compound near the Dalles to Portland, Oregon where she covered the Portland Trail/Jail Blazers, as well as some other sports teams that we won't mention here.
But then came her big break in 1999, when she landed a gig at the Mothership, where among many noteworthy moments, she covered Barry Bonds' record-tying and record-breaking home runs.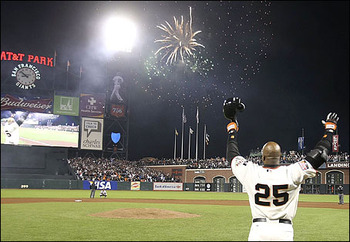 So there's that too.
On most nights, you can find Cindy anchoring the 8-11 ET SportsCenter on the Mothership. Meaning, our very own has become pretty much nothing-but-Prime Time. Of course, we couldn't be more proud of her…
And me? Well, my relationship with Cindy has taken a host of interesting twists and turns.
For instance, those of you who have read this site for some time know that Cindy became an obsession of mine early last fall. Since that time, and following a few run-ins with her husband Steve Berthiaume…
Check that, I mean, Steve Berthiaume…

I had to take a little time out.
But ever since Judge Judy granted Cindy a restraining order things have been pretty copasetic between the two of us. And so, when I "called" her a few weeks back to set up today's interview, she complied readily. Cuz, really, that's the kind of woman Cindy is.
And so, without further ado, our latest Sunday Conversation…(can you tell that I'm auditioning????)
++++
Victory Bell: You headline a distinguished list of outstanding sports journalists and broadcasters at ESPN, some of whom happen to be women. After several leading years in the business, to what extent do you feel that gender still plays a role in your interactions with colleagues and athletes? To what extent do you think that gender still limits the opportunities you have to pursue your professional goals and/or aspirations?
Cindy Brunson: First I would like to acknowledge that when it comes to working in the grocery store of life, I am lucky to have landed in the candy aisle.
It's been an absolute privilege and pleasure to work at ESPN for the past 13 years and counting. Working at ESPN, is a dream which WSU and in particular Glenn Johnson helped me turn into reality. Go Cougs!

When it comes to my gender and relating to athletes and colleagues, everybody is really pretty accepting. For me, it's not about being a man or a woman, but rather, do you know your stuff? Have you done your homework and know about the athlete your interviewing? In my minds eye, I strive to prove myself to my colleagues every day to be the co-worker they can count on to do the job right and with zero drama. I am a big believer in Patriots coach Bill Belichick's edict, "Do your job."


Now outside of this arena is where the diehard consumers of everything ESPN has to offer live. In my interactions with those consumers via social media and in person, I find there is still a strong contingent that feel a woman can't possibly know what a 3-4 defense is in football, or the difference between man to man defense and zone in basketball. I've been peppered with a several, "get yourself back in the kitchen" lines through the years.
While I understand there is no pleasing all the people all of the time, I do try to make sure that when I provide news and information, that I am as buttoned up as I can be because I recognize that I don't have the margin for error my male colleagues may enjoy, simply because I wear high heels.


The only gender limits I see in play right now are for hosts of network NFL Sunday shows and in play by play booths for MLB and in the NFL. It's my hope to see women get the opportunities on those levels, just like women have been able to break into the college football play by play booth. I am proud my network led the way on that charge front by putting Pam Ward in the college football play by play booth in 2000.
Victory Bell: Those of us who follow you on Twitter know that you are a diehard Mariners/MLB fan. What is your favorite Mariners team of all time? And which Mariners team would you want to manage in a 7 game playoff series?
Cindy Brunson: Thanks to my pops taking me to the Kingdome many moons ago, I can say I've been a Mariners fan for as long as I can remember.
Asking which team is my favorite is like asking a parent to declare which child they like best. That said, I am partial to the Refuse to Lose 1995 team and the record tying 116 win team of 2001. Like every Mariners fan, it breaks my heart that the team hasn't made the playoffs since 2001 and I have fingers and toes crossed that this season won't be the 3rd straight 90 loss season.
I remember Floyd Bannister striking out a lot of batters in those early years and I guess if I had to name a skipper it would have to be Lou Piniella since he is the only manager to take Seattle to the post season.
Now if you put a magic wand in my hand, after seeing what Joe Maddon has done with the Rays, I wouldn't mind letting him work his tricks with the Mariners.
Victory Bell: Some ESPN personalities, like the venerable Scott Van Pelt, have publicly trumpeted their alma mater (in this case Maryland) on the air. Is there any scenario where you could imagine busting out a Washington State lid on SportsCenter? And if not, any predictions on the Cougs' football fortunes this year?
Cindy Brunson: As a proud graduate of WSU Class of '96, I always try to give Cougars pub on the air whenever I can. Since I don't have the juice that Scott Van Pelt has, I just have to be a little more stealth in my support.
Still, I try to wear Crimson or Gray on College Football Gameday.
Speaking of GameDay, I think this is the year Chris Fowler and friends make it to a WSU game. No inside information here, just the knowledge of how CLOSE the group was to making the trip last year, that UCLA loss still pains me to this day, lol.

In terms of Predictions? Well, I totally dig the Mike Leach hire. I really feel like the Palouse Pirate is just what the program needs right now.
Since Leach led Texas Tech to 10 straight bowl games, I have to hope he can have the same kind of success in Pullman. I predict the Cougars will win 6 or 7 games this season and make it to a bowl game for the 1st time since 2003. Whatever happens this season, it will be an improved watch over the last few seasons and that increases the likelihood of more Cougar highlights I'll get to voice over on SportsCenter! Go Cougs!
++++
So, there you have it, another episode of three questions is in the books—and what an episode it was!!!!!
Extra special thanks to Cindy Brunson, who in case you can't tell, has been BEYOND a sport in dealing with my sophomoric idiocy over the past year or so. Also, make sure that you follower her on Twitter as well as Sportcenter (She's even fun to follow after she blocks you!)
We'll be back next week with the Editor-Nator of Cougcenter and SB Nation, Mr. Brian Floyd. (It's a cool interview!!!!)
Until next time, GO COUGS!!!!!