Longball's Crystal Ball - 2012 College Gameday Location Predictions
For better, or worse, I love College Gameday. On Saturday mornings in the Fall Amieable and I will usually forgo the opportunity to sleep in and instead make our way out to the sofa to wake up with Lee, Desmond, Chris and Kirk. First we spot the Coug flag, THEN we start the coffee. Never the other way around. I love cool Fall mornings with marching bands, mascots, screaming fans and even that gawdawful jingle (yes, we do want a "little zang in our wing dang" or whatever they say). At the 1998 Rose Bowl my friends and I ran into Kirk, Lee and Chris on the promenade in Santa Monica and made sure that before they could get on with the rest of their evening they understood what it meant to be a Coug. They (and their wives) were incredibly good sports about it. These guys have been part of my Saturdays for almost 20 years now and I can't wait to kick off another season with them in a few more weeks. In the meantime I have decided to put my formidable prognosticative skills to the test once again and give you all my predictions for the 2012 College Gameday locations. Forget the guesswork and suspense of waiting for the announcement each week, just click the jump and find out now...
This finely calibrated scientific instrument used to produce these predictions.
Week 1
The contenders:
Michigan vs. Alabama in Dallas
Notre Dame vs Navy in Dublin
Clemson vs. Auburn in Atlanta
Tennessee vs. NC State in Atlanta on Thursday
Boise State at Michigan State on Friday
Georgia Tech at Virginia Tech on Monday
Where it SHOULD be:
Slim pickins in week one since most teams are playing a directional FCS school's JV squad and most of the quality games are not on Saturday which means they don't really work for gameday. Also, there aren't really any good Saturday games on a college campus to pick from, which would usually be my preference. So I have to go with the Irish and Navy in Dublin. If I was on the Gameday crew, this is where I'd wanna go. This would also be the greatest challenge yet for Old Crimson, but one I am sure we could make happen.
Where it WILL be:
This seems easy, Michigan and Alabama in the Death Star in Dallas. Its like the thunder dome, 2 national title contenders enter, one national title contender leaves. These will most likely both be top 10 teams when the season opens and the winner will be the subject of a lot of national attention. Obviously the idea of gameday at the new Cowboys stadium is completely offensive to a Gameday traditionalist like me, but hey, until we FIX COLLEGE FOOTBALL, we will continue to have early season weekends with nothing but terrible choices.
Week 2
The contenders:
UW at LSU
Florida at Texas A&M
Miami at Kansas St.
Iowa St. at Iowa
Wisconsin at Oregon St.
Where it SHOULD be:
Ugh, another week of pretty bad matchups throughout college football. For a sport with so many teams, this is an absurd problem to be facing. This is a tough pick for me. LSU and Texas A&M are two of the most outstanding environments college football has to offer and they are both hosting big early tests. My Coug homerism has me giving a slight edge to Florida at A&M since it is their introduction to SEC play. However you gotta think Manhattan, KS is going to be revved up big time for Miami and that Iowa/Iowa St. rivalry is really underrated since they aren't in the same conference. However, Im going to go ahead and give the nod to College Station on this one.
Where it WILL be:
I think that Baton Rouge is the spot, folks. I know from past prediction articles that you all think UW is going to get run off the field, but the TV folks have to be thinking that despite LSU's being favored, UW is going to bring an offense that is TV friendly to say the least. If that's the case, we need to fly extra Coug flags at this one.
Week 3
The contenders:
Alabama at Arkansas
USC at Stanford
Notre Dame at Michigan St
Texas at Ole Miss
Cal at Ohio St.
BYU at Utah
Where it SHOULD be:
Ok, so finally in week 3 we are starting to play some football. USC at Stanford may be the marquee game, but the opportunity for Gameday to visit Oxford, Miss and set up on The Grove for their tilt with Texas looks kinda tempting. Still, Im going to show a little of my Utah bias and go with the Holy War in Salt Lake. Utah really embarrassed BYU in Provo last year and I think this one is gonna be a war.
Where it WILL be:
Since Alabama already had their gameday in Dallas, do they get another in Little Rock? There is intrigue surrounding the Razorbacks with Bobby Petrino gone and John L. Smith taking the reigns. Or, how about Notre Dame at Michigan State? There have been some recent fireworks in that rivalry to say the least. But does either of those matchups have what it takes to steal Gameday away from Palo Alto? I don't think so. The crew will trek westward for the first big matchup of Pac-12 play as USC visits the Farm.
Week 4
The contenders:
BYU at Boise St. on Friday
LSU at Auburn
Clemson at Florida St
Kansas St. at Oklahoma
Michigan at Notre Dame
Where it SHOULD be:
The Clemson at Florida St game is going to get a ton of attention, but I really think the atmosphere in Norman that day when K-State comes to town will be tough to beat, so that's my pick. With Bill Snyder back on the Wildcats sideline this really shapes up to be a classic Big 12 showdown like it would have been 10 years ago.
Where it WILL be:
Sorry ACC fans, but I think South Bend steals this one away for an old timey football matchup with Michigan in the shadow of Touchdown Jesus. After Michigan beats Alabama in week one, they won't be able to say no.
Week 5
The contenders:
Stanford at UW on Thursday
Tennessee at Georgia
Ohio St. at Michigan St
Wisconsin at Nebraska
Oregon at Washington St
Where it SHOULD be:
Seattle. If the Cougs are undefeated, Gameday should come to Seattle, and how bitter sweet would that be? After over a decade of flag waving and praying we finally land a gameday and its not in Pullman. This is EXACTLY what being a Coug is all about.
Where it WILL be:
Seattle. Mark it down.
Lookout Ducky!
Week 6
The contenders:
USC at Utah on Thursday
Navy at Air Force
Arkansas at Auburn
LSU at Florida
Georgia at South Carolina
Georgia Tech at Clemson
West Virginia st Texas
Washington at Oregon
Miami at Notre Dame
Where it SHOULD be:
It's too bad that USC at Utah is on a Thursday, or that would be my pick. Instead I will go with West Virginia at Texas just barely edging out Miami at Notre Dame.
Where it WILL be:
If Georgia Tech and Clemson are both 4-1 or better, they may very well get the crew at Death Valley. The TV just loves Clemson. That said, I'm not sure they can overcome the infatuation that is building for the renewed Notre Dame/Miami rivalry. But wait, Notre Dame already had gameday two weeks ago, right? This one goes to the ACC.
Week 7
The contenders:
Alabama at Missouri
Texas vs Oklahoma at the Cotton Bowl
South Carolina at LSU
Utah at UCLA

Where it SHOULD be:
Part of me thinks that by week 7 the Utah at UCLA game is going to be an interesting matchup between a Utah team that just shocked USC and a surprisingly good UCLA team with its own shocker over Nebraska in its pocket. However, that part of me isn't quite as big as the part that says Columbia is going to be turned inside out as Alabama visits for SEC play. Personally, I want to see the reception Columbus gives to the Crimson Tide.
Where it WILL be:
Pretty sure the Red River Shootout will win this one. The Gameday crew won't be able to say no to the funnel cakes and corn dogs at the Texas State Fair.
Week 8
The contenders:
Stanford at Cal
South Carolina at Florida
BYU at Notre Dame
Michigan State at Michigan
Virginia Tech at Clemson
Florida State at Miami
Where it SHOULD be:
Four big rivalry match-ups with an early season Big Game among them makes this a tough pick. Personally, I think the best atmosphere is going to be around the Big House as the Wolverines take on Michigan St.
Where it WILL be:
I think the Big House does win out over the Big Game on this weekend.
Week 9
The contenders:
Michigan at Nebraska
North Carolina State at North Carolina
TCU at Oklahoma State
Notre Dame at Oklahoma
Ohio State at Penn State
Florida vs Georgia in Atlanta
Michigan State at Wisconsin
Where it SHOULD be:
Is it too soon to revisit Happy Valley and let the healing begin? Is the World's Largest Outdoor Cocktail Party the kind of matchup it used to be? Personally, I like TCU going to Clearwater for a classic battle of explosive offense vs. stout defense.
Where it WILL be:
While the Notre Dame at Oklahoma game looks super sexy now, I am leaning towards an emotional and controversial Gameday broadcast from Penn State.
Week 10
The contenders:
Oregon at USC
Nebraska at Michigan St
Oklahoma St at Kansas St
Alabama at LSU
Where it SHOULD be:
Oregon at USC is one of the most anticipated matchups in the history of the Pac-8, 10, 12. Sure, USCs loss at Utah and Oregon's loss to the Cougs in Seattle put a little tarnish on this game, but this will be a titanic matchup with conference supremacy on the line. It may also be a preview of the Pac12 championship game and thus could decide who gets the home field.
Where it WILL be:
Yep, you heard it here first. The Pac-12 will get snubbed for a replay of the most boring championship game ever. LSU will be seeking revenge for getting humiliated in front of God and everyone in last year's championship game and the Gameday crew will be on the bayou to take it all in.
Week 11
The contenders:
West Virginia at Oklahoma St
Georgia at Auburn
Maryland at Clemson
Oregon at Cal
Where it SHOULD be:
The lack of super great matchups is the only reason Maryland and Clemson make this list. Well, that and with the uniform combinations on display that day it will be like watching me vomit Trix through a kaleidoscope. I gotta go with Dana Holgerson's return to Stillwater for this one.
Where it WILL be:
The football Gods will agree with me for once and drive the Gameday bus to Stillwater for a game that could rival the new Batman movie for entertainment value.
Week 12
The contenders:
USC at UCLA
Ohio State at Wisconsin
Oklahoma at West Virginia
Stanford at Oregon
Where it SHOULD be:
I am intrigued by Urban Meyer's first visit to Madison, but I gotta go with USC at UCLA and a game the Bruins will be hoping signals a renewal of that rivalry.
Where it WILL be:
I think the Gameday crew does not pass up an opportunity to visit Madison so Corso can jump around in the Badger costume.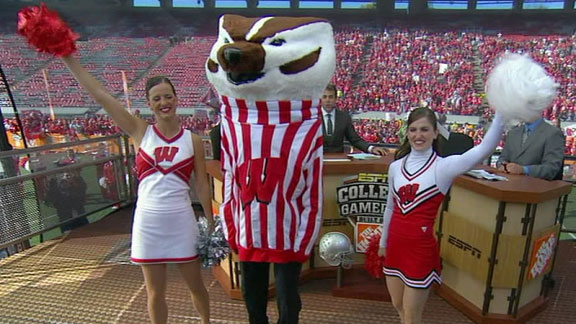 Week 13
The contenders:
Notre Dame at USC
Florida at Florida St
Michigan at Ohio St
Oklahoma St at Oklahoma
Boise St at Nevada
Where it SHOULD be:
Tough one. This day is so packed with great matchups that I am actually glad the Apple Cup in on Friday. I plan to wrap myself in a blankey, spike my hot cocoa and watch football ALL DAY. From Bedlam, to Michigan at Ohio State, to USC vs Notre Dame, you just can't beat this day. And don't even pretend you aren't interested to see Boise State's swan song in the Mountain West at Nevada. But if I have to pick one, my pick for Gameday would be the Michigan/Ohio St matchup in Columbus.
Where it WILL be:
I am going out on a flimsy limb here and picking Notre Dame at USC. Could this game finally have huge implications for both teams? I'm guessing it will and Gameday will be there dodging bullets outside the coliseum.
Week 14
The contenders:
Cincinnati at UConn
Texas at Kansas St.
Oklahoma at TCU
Where it SHOULD be:
Just a handful of games left in week 14, but a couple interesting matchups. For some reason the Big East and Big 12 are still playing regular season football and since I've snubbed them all year long, I am giving the sympathy nod to the Cincinatti at UConn game here.
Where it WILL be:
I think Texas visiting the little Apple is going to get the show in week 14.
Week 15
There is only one game left... Navy vs. Army. It's one of the most unique events in sports and they should definitely get the Gameday crew to Philly for that one.
So there they are, my 2012 College Gameday projections. I look forward to hearing your own in the comments, so have it...