Do I fit you?
Hello Followers. Hope you've had a great week.
Today we take a quick look at the search for new coaches across the mighty Pac-12. For more on that, click on the old jumpavegas.
+++++
Followers, before we get to the meat of today's post, a quick word about this blog. As announced earlier in the week, Sean, Longball, Huddy, and my multiple personalities agreed to give this thing a go for a bit longer. What was lost in all of that is the role of LucasCoug. That is, while Lucas is no longer writing for WSUFB blog, he continues to be the main man our Twitter account. Importantly, under LC's watch, our Twitter following has grown from a baseline of ZERO to a tad under 2k followers in a few short years. Thanks, Lucas!
Now, back to coaches..
++++
Followers, those of you who know me know that deep down inside, I REALLY want to be an Athletic Director. I mean, what could be more fun than watching games, watching a few more games, ordering your staff to put together a few budgets, watch some more games, drink a lot of booze with folks that have lots of money, and watch some more games after that….And that doesn't even count the food!!!!!!
And because I am an AD at heart, I feel like I've got a pretty good feel about how the good ones go about hiring their football and basketball coaches. In fact, I would venture to say that if you are an Elite AD at a school that is not among the Elite of the Elite (e.g., schools like WSU), there are four primary criteria that would typically guide the hiring process. They are:
Goodness of Fit between the coach and the Institution.
Prior History of Success in similar coaching contexts, functions and roles.
Capacity to alter the dynamics of intra- (within) conference competition.
Capacity to make a splash.
Now, if we take Michael Leach as a case example, you can see how it is that he fits the above criteria to the letter. First, he possessed a quirky, renegade attitude that fits WSU as a "unique" institution. Second, he had experienced success in developing programs from the bottom up. I mean, although Tech was NOT a bottom feeder when Leach took over, Kentucky was and so was Valdosta State. In both instances, Leach helped to turn those programs around in a hurry and often did so with players that appeared to be less talented—top to bottom—than his competition. Third, Leach's wide open, use-the-whole-field offense portended to challenge the rest of the conference to match what he brought to the table. For a program like WSU who seemed to flounder to keep up with the Joneses…
The idea of making someone adjust to the Cougs remains pretty enticing. And then there's the splash factor…
Which brings me to CAL and Colorado…
++++
A few days ago, CAL announced the hiring of Sonny Dikes—a guy who was Leach's assistant a few years back, and following that role, was Arizona's OC under Old Yeller…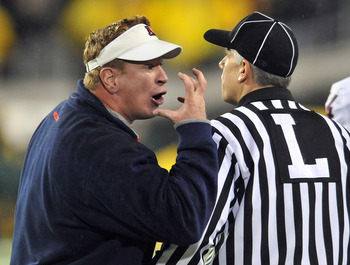 …..before he took the HC job at Louisiana Tech.
Now, let's take a quick look at how Dykes stands up to the criteria outlined above:
Goodness of Fit between the coaching and the Institution
Grade C: There's not much in Sonny's background that fits CAL as an elite academic institution. In fact, there's not much of an anchor between Sonny's background and the Pac-12 as a whole.
Prior History of Success in similar coaching contexts, functions and roles.
Grade C: Obviously, Sonny is coming off of a pretty successful run at La Tech. But you have to wonder—How much does being a WAC coach in a second or third tier academic institution located near a recruiting hot bed translate to being a head coach at CAL? Again, I'm not saying Sonny won't be successful, I'm just suggesting that the translation between roles is not as straightforward as one might like if you're a CAL fan…
Capacity to alter the dynamics of intra- (within) conference competition.
Grade C: This past year, Dykes had the unique honor of coaching the Nation's most prolific offense and its most pathetic defense. So, if we look only at the plus side here, you can see that Dykes might help CAL kick up their offensive production about 10 or 12 notches. But when you look at the whole package, you have to wonder: How is this hire going to impact what programs in the North are doing with respect to scheme, recruiting, and game planning? And if you're objective, I think you'd have to say "Not Much."
Capacity to make a splash.
Grade B-: While no one is gonna give the Dykes hire the type of grade given to Leach and Rich Rod last year, this certainly isn't a "HUH?" hire. And it certainly isn't going to hurt recruiting.
Overall Evaluation:
While I don't think that this was a bad hire, I don't think it was a good one either. I mean, look at San Jose State's Mike MacIntyre as a great example—
I mean, MacIntyre already coached in the Bay Area and already had experience coaching at Elite academic institutions (Vandy). He has a track record as a rebuilder as a head coach, taking SJSU from WAC obscurity to a 10 win season this year. Finally, he already showed that his teams play the type of physical football needed to compete with CAL's chief rival, Stanford. In essence, CAL had their man in the backyard and didn't take it….
Good for the Cougs, not great for the Bears.
+++++
And then there's Colorado. First of all, if I'm a Buffs fan, my main goal for this next week is not to hire a coach, but fire the AD. I mean if there's one thing we saw from Bill Moos last year is that IF you're a beleaguered program, and IF you're going to fire your coach, you better have a stinking plan ALREADY LINED UP when you pull the trigger. So, not only was the firing of John Embree a raw deal….
it now looms as catastrophe for the CU football program. I mean, not only is that school behind in talent as-is, it is now even farther behind in recruiting. And so, any coach that wishes to take over that outfit, needs to have assurances that they're going to get enough time to build the ship..
Unfortunately, that AD, Mike Bohn (Jovi) has ZERO credibility in supporting his coaches—all of which figures to make the search even more difficult.
Personally, I think the loss of Butch Jones was NOT a loss for CU. Jones, although a very good coach, basically made his living off of Brian Kelly's leftovers at both Cincinnati and Central Michigan. So, in my view, there wasn't a whole lot of evidence to suggest that Jones could successfully undertake the massive re-build that is the CU job.
So, even though I wouldn't wish the CU job on my worst enemy, here is the man I would hire if I was CU's AD:
I'm the First Noel
In my view, the hiring of Noel Mazzone would do two REALLY important things for CU. First, it would set them up nicely for recruiting high caliber offensive talent out of California and Texas. Second, that hire would cut right into the heart of UCLA's resurgence, allowing Bohn to impact the current dynamics in the Pac-12 South. ..
Of course, with both UCLA and CU off the schedule for the coming years, the above course of action would have ZERO effect on WSU. But what the above dynamics show us is how darn tricky it is to land a head coach when you're not an Elite institution. I mean, look how stinking hard it has been for TENNESSEE to land a stinking head coach!
So, even though this season wasn't what we all wanted, count me in as a guy who is even more thankful that Mike Leach is our head man. Because if this year's "Silly Season" is any indication of the new normal, we are SO LUCKY to have him.
All for now. Go Cougs.