The author contemplates stealing Barry Morrow's Best Screenplay Oscar for Rain Man.
If you are a regular reader of our little blog here, and I know that at least a dozen of you are, then you have probably noticed that we love to give out awards. Seriously, we love it. This week just happens to be the biggest week in all of awardom, Oscar Week! So, of course, we didn't want to be left out. With that I present to you the WSU Football Bloscars. Since we are nothing if not self aware here at the WSU Football Blog, I must admit that yes, with this latest award we have indeed jumped the proverbial shark.
So with that I invite you all to make like Fonzie and...
For best performance in a starting role, the Bloscar goes to:
Marquess Wilson for his performance as starting wide receiver. This guy probably just had the most outstanding performance at his position of anyone wearing Crimson and Gray since the Ghost haunted the Palouse.
For best performance in a supporting role, the Bloscsar goes to:
Casey Locker for his performance as a reserve safety. Casey was the 3rd safety behind Tyree Toomer and Deone Bucannon, but that did not stop him from having an impact, pun intended. By the end of the season he was one of the most notorious hitters in the Pac-12 and you better believe that a number of receivers are going to have their ears peeled for the footsteps of #22 as they pass through our secondary next season.
For best original score, the Bloscar goes to:
Marshal Lobestael and Marquess Wilson for teaming up on a 63 yard 4th quarter touchdown pass against the Colorado Buffaloes. At the time this play all but sealed a bowl game for the Cougs as sure wins against UCLA, Oregon State and UW still remained on the schedule.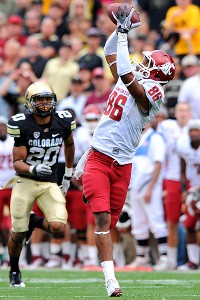 The Bloscar for best screen play goes to:
Marshall Lobestael and Marquess Wilson for teaming up on a 38 yard score on a screenplay in the 3rd quarter of the Apple Cup. The second Bloscar of the night for this duo and third overall for Mr. Wilson. This play was one of the few bright moments in an otherwise dark, dark day.
The Bloscar for best director goes to:
Bill Moos! It is not very often that we Cougs have someone in our program we can honestly say we wouldn't trade with anyone in the country. Bob Rob is perhaps the best example of this, but I can honestly say I would not trade Bill Moos for any athletic director ever.
And just like the Oscars, the Bloscars like to take a moment to remember those who have moved on, but will never be forgotten (the following should be viewed while listening to the late Whitney Houson's cover of "I Will Always Love You"):
Thanks for the memories, fellas.
Are you trying to say that C.J. Mizell is Ghadaffi's son? Because I think you are.
And I think you might be right...
@WallaCoug I try to never miss any opportunity to post a crazy picture of Ghadafi. That one looks like he just went on a 3 night bender in Vegas, but as usual, the uniform is pristine.
@ErikAnderson Seriously and who is his uniform designer? talk about queer eye for the straight guy. You gotta love that he is a self proclaimed Colonel, yet he has the epaulets of a field Marshall.
@WallaCoug I try to spell it differently every time. He's like the artist formerly known as Prince... he is just too amazing to be defined by a single name.
ya..who is his dry-cleaner?
Yes! Yes! Yes! How can anyone beat the Ghadaffi finale????