Your Wednesday AM Roundup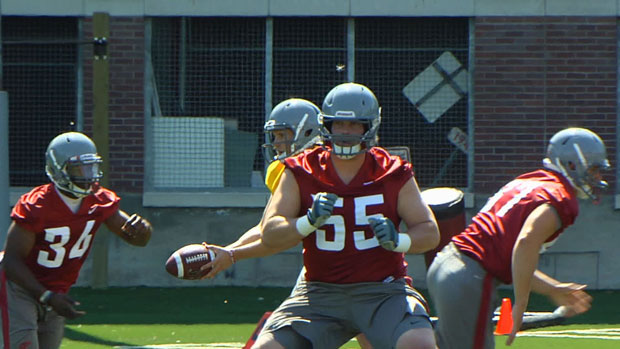 Hooray for Practice!
Happy Humpday Cougs, and a good morning to you all. The footballers of Washington State were back at it yesterday, and there are lots of news-n-notes-n-such to get to, so here we go....
But first, a quick personal note. Some of you may or may not know, but my 11-year old has played tackle football the last couple of years. It was a ton of fun for him, as he excelled as a starting nose tackle on a really good team up here in the Mill Creek area. He was always known as a high-motor kid who loved the sport to death, a kid who was actually sad when there weren't any PRACTICES (seriously). He was that much a "pig in slop", so to speak, and football just seemed to be his thing. He was never the biggest, fastest or most talented kid out there, but he had a motor that you just love to see when it's in action. He was a player coaches love to have on their teams, because he's the type of kid who would run through a wall for you, no questions asked. And he even won the "Love of the Game" award from his coaches after his first year, something that he definitely earned!
But this year, things started to change. First, his coach from the last couple of years decided not to be a head coach this season, as his son was staying down a level anyway (my son was moving up to another level of play). Second, a lot of players who were a big part of his teams from the last two years decided to go their separate ways, and out of 29 kids on his new team this year, only 5 moved up with him. So the whole thing was unfamiliar, with brand new coaches and teammates, and he was missing his football "brothers" before practices even started. But finally, and above all else, something just changed with him this year. He seemed to have lost his passion for the game, seemed to have lost interest, and appeared to just care more about other things that weren't football-related. That said, a lot of times kids are just "seasonal" when it comes to sports, and they often times don't really think about other sports in the off season. So we hoped that his passion would come back once it got closer to the season, and we were convinced that it had returned after a strong showing at a football camp a few weeks ago. It went well enough that he looked like his old self again, and he declared that he was on board to play.
But even after all that, something still seemed "off", I guess. The excitement leading up to the first practice just wasn't quite there. It was more a sense of dread than excitement about putting on the helmet and getting back out there. And after the first practice of the season on Monday night this week, it became crystal clear that it wasn't going to work. The passion, the excitement, the zest for the game of football had left his body. And one thing rings very true in this sport - as you climb up the ladder of football, you better 1) LOVE THE GAME, and 2) BE OUT THERE FOR YOURSELF, not for others in your family pulling for you! So last night, after a lot of back and forth and some tears along the way, we decided to pull the plug on his season. He just lost interest in this game where he used to work so hard at, this strong kid who loved the contact and the action in the middle and the camaraderie of football. And the last thing you want to do is force a kid to play this game when his heart isn't in it. And if you find you are shoving him out on the field of play, you can be assured that it isn't going to end well!
I guess I've learned a lot as a parent over this. As much as you can push and prod and try to drive your kids in a certain direction, they are still their own selves. As much as you think you know what's best as a parent, and how much you believe something is the right thing for them to do? They are going to follow their own path, no matter what your passions or experiences were when you were their age. Some of you with kids who are older already know this, and are probably saying "yep" as I type those words. But every day is a learning experience as a parent, and as they continue to get older we continue to learn about them, and ourselves. And as much joy as he used to have playing this game, and as much joy as it brought me as a father to watch him excel at a sport that I LOVE so much? It's heartbreaking to see him hang it up, to quit something he was good at. Yet I understand that in the end kids are going to go where their hearts lead them. And football just isn't in his heart anymore.
With that, I say I love you and support you my son, whichever path you follow. And I also leave you with this Youtube video of Conor, playing the game he loved so much just one year ago:
Alrighty then, on to this AM's links!
The official WSU site has a quick read on the practice from yesterday, including some details on the scrimmage at the end of the day. Videos of Jeff Tuel, Deone Bucannon and Mike Leach can be found on the site. But what the heck, we'll embed them here:
Note - the Bucannon video wasn't something I could embed for some reason, but it is there on the official WSU site.
Christian Caple has the full notes with his recap of yesterday, which you can get here. Caple touches on several noteworthy items, including some improved coverage from the secondary, maybe the best they have looked so far in camp.
Cougfan's Joe Doyle has a premium story on day 6, and it's a good one if you can get there. There is stuff on Rickey Galvin and Teondray Caldwell at the running back spot, as well as full details from yesterday. By the way, between Annabel Stephan and Joe Doyle and the whole Cougfan army, I have to say that they really have killed it so far this fall camp! Major hat-tip towards Cougfan, great job so far this year.
Finally, speaking of killing it, Brian Floyd has a TON of notes from yesterday. Great work from Floyd, and a good look at pretty much everything day-6-related.
That's it for me this morning. Look for something from our own Huddy at some point soon. All for now, but as always, GO COUGS!