Hey, remember when it was, like, zero-zero? That was cool.
Well my Coug friends, as we wake up to the Friday before the holiday weekend, we have a lot to mull over after last night's destruction. I for one thought we were going to lose this game and predicted as such in yesterday's post, as I felt all offseason that this match-up just isn't a good one for our young team looking to get it all started on the road. I thought BYU would score into the 30's, like many of you out there. But WOW, did I mis-read the offense or what!? 6 points and 200 yards and change on offense? Negative rushing yards?? What in the wide world of sports was going on out there!?!?
Sadly there is no reset button like on the XBox or PS3, even though I really wish there was right now. But here's a few things to think about, plus a quick round-up of the morning links (if you can stomach reading the aftermath??).....
1) Yeah, Tuel held the ball too long and/or seemed hesitant, but how much was actually available down the field? The ESPN guys kept saying it all night long, but when BYU was able to mount consistent pressure with four, and sometimes even THREE guys, well, guess what the rest of the defense is doing? They are dropping back into coverage and taking away the "space" that Leach has made a living off of exploiting! What can we possibly expect the QB to do when nobody is open? Not that there weren't moments, and early on things looked like it would be OK on that first drive of the game when Tuel looked sharp and guys were getting open here and there. And there definitely were some things that looked like they were there down the field on a few occasions later in the game (the deep balls to Marquess Wilson that were called back for holding, and just missing Dominique Williams on a fly pattern in the end zone in the third quarter). But for most of the night, BYU was dropping a ton of guys into coverage, and those wide open spaces just disappeared.
I still remember watching the spring game, and coming away impressed with Tuel but also felt along with more than a few people felt that there were times that he looked to be holding on to the ball too long? It was a scrimmage of course and so hard to read much into it, but I do recall some moments where he looked a little hesitant to pull the trigger. But that was nothing compared to last night. I don't blame him for not trying to totally force the action, and when he did the results were disastrous with the two INT's, but if guys aren't open what in the world can you do?
2) So if they drop a ton of guys into coverage, we should be able to run the ball.....right? One would think so anyway. I mean if your O-line only has to block three or four guys up front, and the defense is consumed with dropping back and filling up the spaces, that should leave some room right around the line of scrimmage to exploit the strategy on the ground? But it just never clicked, for whatever reason. The running plays often times looked too slow to develop, and/or the O-line just didn't do the job in opening up holes on the off chance we did see a running play called. And the whole read-option thing was hardly an option at all, as I cannot recall a single time that Tuel pulled it out of there and kept it, and BYU just crashed down to the line of scrimmage every time. The whole attempt at running the ball just looked completely out of sync.
3) The D? Well, they had their moments. I thought early on they looked a little confused however, you could see the players adjusting and shifting but also looking around at each other, maybe not quite sure what to do on some adjustments? And both TD passes in the first quarter or so showed a breakdown in the secondary. One for sure was a mess-up of the corner and safety on BYU's first TD, as it appeared Simmons released the receiver in zone coverage, thinking he had help over the top, but the safety ran to the middle of the field, leaving the corner of the end zone wide open. And that roll-out TD pass on 4th down by the back-up QB, there was nobody within 15 yards of the tight end when he scored.
I did like what we saw from big Gauta at nose tackle, he looks like he'll be a decent player up front. And the linebackers looked OK at times, and Darryl Monroe, Chester Su'a and Travis Long all had some moments here and there.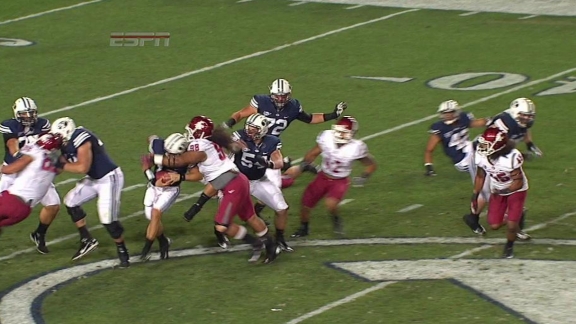 And I certainly thought we were hitting pretty hard at times, maybe harder than we hit on many occasions last year? There were a few shots on some WR's and even Riley Nelson where I was like, "OOOOH!" But there were still times that it looked and felt like 2010 all over again, where the opponent could simply line up and run it at will and there was very little we could do before they gained 5, 6, 7 yards per carry.
Anyway, one deep dark fear I had this whole offseason, after reading Leach's book like everyone else and trying to understand the offense, is what happens if they AREN'T in synch early on? With an offense that is built around the QB and the WR's being on the same page in regards to what routes to run and all that, what if they are still in the over-thinking mode and not just reacting to what they see? I mean what if the WR's last night were just a little too hesitant in what to do on their routes, thinking if they should break it off or try and go deep? What if they were freaking out a bit when they saw so many blue shirts in coverage, and the spaces they thought would be there just disappeared? Besides Marquess Wilson, there is talent at the WR spots but it is still a very young skill group after the loss of Jared Karstetter and Isiah Barton from last year. Maybe part of the reason Tuel looked hesitant is because he simply isn't yet on the same page with his WR's, and that this thing is just going to take time?? Anyone who's ever played a competitive sport knows that when you are thinking too much, you hesitate. And when you hesitate around the school yard or whatever it's not a big deal. But if you are hesitating at that level that we saw last night, just a few seconds make all the difference in the world in this offense!
That said, BYU.....they look pretty good to me. Riley Nelson was as advertised, a tough kid with a linebacker mentality playing QB. But if he wants to survive the season, he sure as hell better learn to not lead with his face and take on linemen and linebackers head-on! He'll never make it out of the first month if he plays like that every week. But just the eye test was somewhat shocking to me if you want to know the truth. Did you see some of the bodies on many of those BYU players? Those guys are MEN, and wow did we look small and young in a lot of comparisons on the wide screen TV! Maybe this is just what it looks like when you've lost so much over the last several years, and you realize how much work is still left ahead as you try and "mature" the program? But there was a striking difference in the bodies in blue and white last night compared to our crimson soldiers.
And I don't know what kind of season BYU is going to have, but hey, they have won 10 games in 5 of the last 6 years. We still walk around talking about our streak of three 10-win seasons from 01-03, but these guys have done it 5 of the last 6 years. If you were in BYU's shoes last night, wouldn't you have been confident coming in that you would take care of business? But those 10-win seasons, that isn't a mistake or a misprint or anything. Maybe they aren't quite Boise State in terms of lower-conference superpower, before they went independent last year, and maybe they weren't eye-popping in the way they won 10 games last year. But they still did it, and they really aren't too far away from a Boise State or Utah pre-Pac-12 when you look at what they have become.
Well, the EWU Eagles are up next Saturday. It will be a very good thing to open up the new Martin Stadium in front of a near-sellout crowd, against a team that doesn't look like BYU. This is just one game out of 12 folks, and we have a LONG way to go. Let's hope they stew on this one a bit, come out super angry, and let everything hang out!
As far as links go, I think Christian Caple has you covered pretty well here, if you dare to read his "mourning" links.
All for now. Enjoy your holiday weekend, and of course....yes, still....GO COUGS!