Hump Day With Huddy - Semi-Educated Guesses
Don't worry, Bridgeport. I still love you.
Good morning and Happy Hump Day Cougs! I was hoping I'd be announcing today that I was a Mega Millions jackpot winner. Unfortunately, lotteries are a little more difficult than I had originally expected so my panda purchase will have to wait until the next time the jackpot creeps toward a billion dollars. On the bright side, I did win 85 bucks for winning a low stakes March Madness pool so not all was lost. Enough about me. Six practices are now in the books on the Palouse and through all the reports, we're starting to get somewhat of an idea of how Cougar football will look come fall. Brimming with confidence after my March Madness windfall, I now fancy myself a master prognosticator so I've got some bold predictions to make for the future of Washington State football. OK, maybe they aren't bold predictions so much, but educated guesses. OK, semi-educated guesses. Let's just get on with it.
The Cougs will lead the conference in touchbacks and finish top 4 in net punting average.
Let's just say I've got a lot of faith in Mike Bowlin. Have I seen him in person? No. Have I seen him play in an actual game on tv? Nope. Do I know anything about him aside from recruiting snippets and practice reports? Not so much, but the consensus seems to be that he's kicking the hell out of the ball right now and that's good enough for me.
That said, Andrew "Form Fit" Furney will retain the placekicking duties.
Our kicker has an innie and is proud to show it off.
While Furney hasn't fully mastered the art of kicking the ball far, he is pretty adept at kicking it between two tall sticks. More importantly, he has some experience doing so when it really matters. He won't lose his job, but he's gotta look over his shoulder a bit and that competition is a good thing.
Chester Su'a will be in the mix for all-conference honors.
One of my favorite random movie lines to yell is from "A Time to Kill" when Chris Cooper's character yells about Carl Lee Hailey to "Turn him loose!" This has almost nothing to do with Chester Su'a except I think Mike Breske sees his abilities and thinks, "I need to turn him loose!" I believe he'll do exactly that. It's somewhat absurd that a true sophomore is our most experienced returning linebacker, but it is what it is. He and Darryl Monroe are awfully talented and will make a lot of plays (with a fair share of mistakes mixed in).
The leading receivers, in order, will be Marquess Wilson, Kristoff Williams, Bobby Ratliff, Blair Bomber, Andrei Lintz, Dominique Williams, Gino Simone, Henry Eaddy, Isiah Myers.
Oh snap. Now we're getting bold. Barring a disaster and/or voters inexplicably forgetting he exists again Wilson is an all-conference first teamer and Biletnikoff finalist. Williams, Ratliff and Bomber are my way-too-early predictions to be the other starters and will therefore see plenty of catches. We touched on Lintz last week. While I'm excited about the reports on him, I don't necessarily see him as a high volume numbers guy, but more of a red zone assassin. Same for 'Nique, but with more big plays mixed in. Simone could end up switching straight up with Bomber, as they look to be competing for the same spot. Eaddy and Myers will spell the others. If any true freshmen are going to enter this mix, I expect it would either be Gabe Marks or Alex Jackson, but that doesn't seem likely. We'll see in August. 
By the time fall camp starts, I will be able to spell Dominique and Isiah without looking them up first.
They aren't hard names, but I always have to double check against Domonique and Isaiah. I'm working on it. This time of year means reps for bloggers too.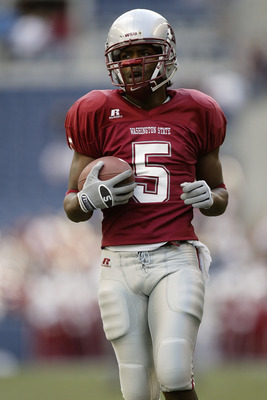 Remember what a dangerous punt returner looked like?
We will see the Cougs return a punt for a touchdown next season.
Correct me if I'm wrong, but we haven't seen this happen since Michael Bumpus was around. If it hasn't been that long, it sure feels like it. You're probably thinking my well documented man crush on Rahmel Dockery is driving this belief and it mostly is, but there's some other guy with a tendency to make big plays who is back returning punts that you may have heard of. None other than Marquess Wilson himself has been getting work in the return game. On one hand, this scares the bejeezus out of me. On the other hand, plays like the screen he took to the house against San Diego State lead me to believe his skill-set is well matched for taking a kick all the way. Go ahead and throw Marcus Mason into the mix as well and you've got some pretty good candidates. It's gonna happen.
Go ahead and add Rahmel to the list of names I have to spell-check.