Hittin' the Road With the Cougs
Hang in there, Cougs, just three more days until Fall camp kicks off for what may be the first football season in a while with, dare I say… some sense of anticipation? The interwebs are blowing up with hopeful prognostications, optimistic outlooks and downright confidence that this will be the year we finally have something to crow about on the Palouse. By now just about everyone has given their assessments of what it's going to take to get to our first bowl since 2003. Some are excited about returning starters who showed they can straight-ball with the Pac-10, Jeff Tuel, Marques Wilson, Deone Bucannon, CJ Mizell, Sekope Kafusi, John Fullington… etc. Others are feeling bolstered by a revamped coaching staff including Steve Morton, Todd Howard, Dave Ungerer and Chris Tormey. These are all reasons to believe that this season could be different and then there's… the schedule. Read on for more…
It's been a while since we saw a schedule that seemed to have so many winnable games. The last few years, while we struggled at times to field 22 healthy players, our schedule was, mercilessly, one of the toughest in the country. This year we start off with an FCS doormat, and a UNLV team going through their own "rebuild" with a new coach, and no USC. We then go on to play "winnable" games against SDSU, UCLA, Colorado, Cal, OSU, UW and Utah. Surely we can find 4 wins amongst those 7 games, right? Well if you look closely you may notice that only one of those games comes in the comfy confines of Martin Stadium. In other words, for this team to fulfill their destiny as the one that brings winning back to the Palouse, they will have to be road warriors.
This is Jeff Tuel in 2011.
And what a strange road they will have to travel. We have had a few quirky road adventures over the years (Notre Dame in San Antonio, really?), but this year is truly bizarre. We play 3 games in NFL stadiums (OSU and UW at "the CLink", and SDSU at Qualcom) and 1 in an MLB stadium (Cal at AT&T park). Will Andrew Furney boot a field goal into McCovey Cove? Are the teams going to have dugouts? When we are up 30 points going into the 4th quarter will we warm up Lobbestael in the bullpen? I could do this all day, but I digress… We also play a conference game in Boulder, Colorado (I felt strange typing that). Heck, even our trip to play UCLA in the Rose Bowl isn't completely normal since we'll be playing them there for the second season in a row. WEIRD! Lets just trade in the new road truck for a tie dye VW bus, cause its gonna be a long strange trip indeed.
Trading in this.... for one of these.
Playing so many games we are pinning our fragile hopes on away from Pullman is disconcerting, and seems in line with the kind of luck we have had since we apparently used up ALL of our football karma in 2001-03. Of course, we do have the one thing I always think makes winning on the road possible in college football… a veteran QB. Also, you can't exactly say this team needs to "learn to win on the road" since it's the only place we have won a Pac-10 game since 2008. In that regard the win at OSU last year got two big monkeys off our back… winning against BCS competition and doing it on the road. Lets hope there is something we can carry into the season from that win, cause we're gonna need it. But lets not just put this all on the players and coaches. We ALL need to be road warriors this year. I implore everyone to grab the kids, pack up the Winnebago, and hit the road. Lets all try to make it to at least one road game this year, because these games are crucial. For our part, Amieable and I are going to Boulder to welcome the Buffs to the Pac-12 and take in all that one of the great American college towns has to offer, plus… RALPHIE.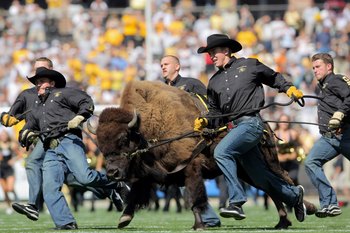 So sound off in the comments, readers, where are you going to travel to support the Cougs this year?
2011 WSU Road Games:
September 17 - San Diego State Univerisity in San Diego, CA
October 1st - Colorado in Boulder, CO
October 8 - UCLA at the Rose Bowl
October 22 - Oregon State in Seattle, WA*
October 29 - Oregon in Eugene, OR
November 5 - Cal in San Francisco
November 26 - UW in Seattle
* Cougs will technically be the "home team" vs. Oregon State