Paul Wulff Radio Show Recap - Week Four of 2010
Wow, fourth week of the radio show already?  It just flies when you are having fun, doesn't it? 
Or not. 
But whatever, it's the fourth week of the radio show, so we'll get right down to business....
Wow, Bud came out firing, by asking how practice went!.....Just kidding.  Bud's great, we all know that, and he's like totally nice and everything.  Anyway:
1)  Bud did ask, how was practice?
Wulff said it was "Solid.  But we are young.  With being so young, there is good and bad.  But we need to grow up.  With youth, you get positive, wide eyed kids at times, and we do young, dumb things that makes coaches hair turn gray and fall out(!).  But it is part of the deal, we just gotta keep growing up."
Bud asked about the new Monday night practices, why is that?  Wulff said "It's really working out.  We all like it a lot better, and there are a couple of reasons. 
A) Kids have Sunday off.  They get to stay home,  relax, get treatment if necessary, catch up on their studies, watch the NFL, etc.  
B) 6 AM Monday morning, we watch video with the players.  But then we are done at 8:15, before school on Monday morning.  As coaches we have all day to start work on a game plan.  Then by 6 PM Monday night, we meet and go over the scouting report of our upcoming opponent, then we hit the practice field by 7:45 PM.  We can use that Monday 7:45 practice time to install and get good reps on things, and even better the players seem more fresh.  If they got nicked up in the game, they would have all day Sunday and most of Monday to get better.  We get to go over things already for upcoming opponent, and it makes Tuesday's practice even better."
But asked if this will continue as the weather changes?  Wulff said "absolutely, we'll just head indoors for the evening practice.  But it will continue this way."

2)  Bud asked about the news of the day, that Colorado will now be joining the Pac-12 next year, along with Utah, for 2011
.  Wulff said that "yep, it sounds like things are going to change in a hurry too.  With Colorado now finalized for next year, it should speed up alignment and TV revenue sharing talks next month."
Bud asked about his personal preferance, on alignment?  Wulff said "Personally I would love to be able to play the two Northern Cali schools and have the Oregon and Washington schools in that same division.  But it doesn't sound like it is going to happen.  When it was first out there that we might go to 16 teams, with Oklahoma, Texas and everyone else in the Big 12, I loved the idea of the old Pac 8 in one division, then the Arizona schools plus the six new schools in the other.  But we'll see. "
3)  Bud asked about watching film of the game just played
.  Right after game, once you watched video afterwards, does your perspective change?  Wulff said "It always changes!  I usually only see about 10-15% of eveything on the sideline during the live game.  That's just the way it is, you can't see everything live.  But with video, I get 80%-85% of the rest of the game."
And speaking of video:  Wulff said "I encourage anyone to come to our Spokane Club lunches on Mondays during the season.  I will show video of the game, and clarify with coaches game film of what happened during the game for everyone in the room.  I will be able to explain to all of you the good, and the bad, and give you a better idea of what we're doing and why things are happening on the field."   
Bud said that he was at yesterday's lunch, and said it was "Eye opening.  One little step or turning head one way vs. the other makes huge difference in one play."  Wulff said:  "Well, it's a game of inches.  If we can get 'em where they are supposed to be, good things can happen.  But if not, the play can break down.  And if we are not quite quick or strong enough, that limitation has a big effect on plays.  But I can show you coaches video, and
YOU WILL RESPECT MORE of what's going on.  I WILL NOT HOLD BACK and I will tell you how it is more so than you will find anywhere else.  I won't hold back either.  I WILL GIVE YOU THE TRUTH!" 

Hmmm.  If you are cruising around the Spokane Club on a Monday during the season, it might be worth it to check it out?
Wulff then added that this rebuilding requires "Patience and time.  Right now we are making it look like football every week, and that's a good thing.  But again, I have NO DOUBT we are headed for great things.  Everyone wishes it would be tomorrow or next week or quickly as we can possibly make the changes.  We are improving it, our talent, our develpoment, and I am excited about the future.  I know the pieces are here, and they are coming.  Heck, coach Levenseller gives affirmation of what's coming up in the next few years.  You have to remember that he's seen it all - two Rose Bowls and two losses to Idaho.  There aren't many WSU coaches who can say that...."

4)  Bud asked about Jeff Tuel right now, and how this is a milestone game for him.
If you don't recall, Tuel got his first NCAA action vs. SC a year ago. 
Bud asked, how is Tuel different right now?
Wulff said "He has 3-4 more whiskers on his chin....but no, he is bigger, stronger and more confident in what he's doing.  And his supporting cast is developing.  It's not like he has veterans, he has youth all around him as well as inexperience (three new O-line starters who had zero starts coming into 2010, plus the running backs, and two new wideouts in Marquess Wilson and Isiah Barton, yeah, he does have youth and inexperience around him).  But right now he is probably more comfortable with some of guys in their 2nd year he's been with (Karstetter and Simone), but overall I would say he's better in every area.  And I still think he's going to get better and better rest of season."
Bud noticed that last year Tuel was running as he tried to do his thing with o-line's performance lacking.  This year there is better protection, but is his instinct to run still?  If so, how do you unlearn that if you feel some pressure?  Wulff said "That's a good point.  Jeff was a young QB a year ago, and the O-line struggled mightily.  I would say he is a little "scarred" because of that, and in the process he has developed some bad behaviors.  He is doing better, but he still has some of that in him.  I don't think he fully trusts his protection yet.  And last week, we may have had at least one more TD if he would have stepped up in the pocket and trusted things around him a little more.  But the team has to help him give him confidence, that we will protect for him.  It is a learning curve we are going through right now with Jeff."
"We need to keep working on the video, to have him step up, keep his eyes down the field, and trust the protection.  As we keep improving, gaining confidence in ourselves, Tuel will develop more confidence in his surrounding players."

5)  Bud asked if WSU would ever paint the practice field blue like OSU did in preparing for Boise State's Smurf Turf??
Wulff said "No, we wouldn't do that.  We don't have grass fields to do that (note - OSU painted their grass field white, and then painted it blue to prepare them for the game).  But it's pretty extreme, and I wouldn't do that.  But Oregon State and Mike Riley, they know better than us though as they have been down there recently."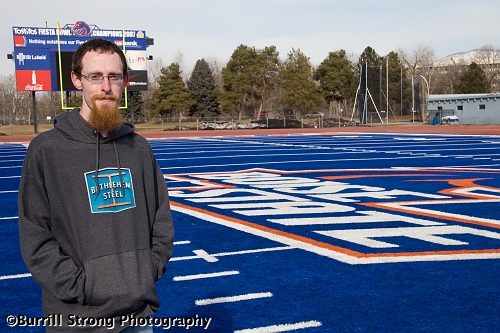 "We played there at EWU, and I have to say that it does seem different on the blue turf."
6)  A caller asked how's recruiting going?
Wulff said "In recruiting, when we got here in December '07, we signed as good a class as we could for the class of '08.  But the problem is that the majority of your recruiting is usually done by the time we took the job, with some last minute commits usually coming in January.  We still did get some good players in that first class.  The next year's class has been very good already, with Gino Simone, Jeff Tuel, Nolan Washington, Travis Long.  And this year's class that came in back in February is, already, the best that's ever been here.  We have BONAFIDE Pac-10 players in this class, and I have no doubt that several of the kids from this class will play beyond just the Pac-10/NCAA, which is exciting."
"Right now,
we have 14-15 commits
.  But you gotta start early and build relationship and trust in recruiting.  Then they will visit and when they visit our current players and goals, come out to Pullman and see where we are headed, that visit usually seals the deal.  We feel really, really good about this year's commits, and they understand where we are and they want to be part of something moving up.  That's who they are, that is why they are committing.  We couldn't be happier with the ones committed to us so far, but you have to be able to recruit year-in and year out!"
7)  A caller said that he is seeing a little progression each game, and it looks like they are doing a little better.  But how would you, Paul Wulff, rate your own coaching staff through these first three games??
Are you satisfied with the performance of the coaches??  HMMM??!!?  Wulff said "Always as a coach we look and think we could have done this or that differently.  And as coaches, we better be doing that.  We won't get better as coaches if we don't look back and re-think things.  But we have done a good job this year.  But I do have to say the game we weren't really prepared for was the Montana State game.  Nothing against Montana State, but we just didn't execute.  They did a great job in their game plan, and we didn't.  We got caught off guard a bit by what they were doing, and we didn't execute as well.  But I am happy that we fought back."
"Defensively vs SMU, we did a great job.  We had people in the right places, but we just got beat.  Offensively the same thing, we just got beat a few times.  There were lots of yards and points out there to be had.  With the new coaches, Dave Ungerer and Steve Morton are doing great, solidifying the offensive line and special teams.  Overall we are doing good things, but we just have to execute at a higher clip."

8)  A caller asked about Tuel throwing high over the receivers vs SMU, is that something they noticed?
Wulff said "There were some times he did do that.  He's had high throws at times this year.  We try to address it as coaches but ultimately he has to keep working on it.  And confidence in the pocket is an issue on accuracy and familiarity with players around you.  Whether it's the NCAA or NFL, great passing games come with players playing together.  Our synch in passing is not there, but it's coming.  As Jeff matures and the young WR's keep growing up, we will have one of the best passing teams in the Pac-10/12, we really believe that and where it's headed."
Bud added that on Jared Karstetter, there was some early success, but it disappeared later.  What happened?  Wulff said "We were playing all our wide receivers, but with the fatigue/heat, we were rotating a lot.  Jared hurt his ankle too so maybe he's not in the rotation when the pass play is called, things like that can happen during a game.  With time there we will have better consistency with personnel.  It was 100+ degrees on the turf and we had to keep rotating players in and out, and it didn't match up with Jared in the passing game in the second half."
Bud mentioned the fresh legs at wide receiver, and how it didn't seem to bother one player in particular - Marquess Wilson.  Now twice as a true frosh over 100 yards receiving in three games, it's only been done once before in school history (Philip Bobo back in Bledsoe years).  Bud said Wilson's speed is so smooth, it doesn't even look like he's running!  Wulff said that "Yeah, he's only 17 too.  Once we get him in the weight room the sky is the limit.  During recruiting, Pat Hill at Fresno State said he didn't care about stars on recruits, he said that
Wilson is best WR in state of Cali from last year's class
.  And we agree.  But there are the other three kids too, in Bobby Ratliff who is redshirting, we think he's going to be really good.  Kristoff Williams is trying to play with turf toe but if we keep going like this it won't be worth it and we'll redshirt him, but Williams is bigger and stronger than Wilson, brings a different dynamic.  And we also have Blair Bomber.  We will have as good a receiving group as we've had here once they grow up.  Just ask coach Levy and he'll tell  you he feels like he's gained 10 years to his coaching life cycle because of his excitement about this group!"
Bud also mentioned the breaking news tonight, but
Joe Nickell from the WSUCougars.com blog is going to Boise State!?!?
WTF!?!?  Joe, what?!  Seriously, thanks to Joe for being good to us here.  A lot of you don't know but Joe has been very cool to this little blog over the last year or so, from little things here and there to setting up Longball and Amieable with good spots to watch practices and scrimmages, things like that.  We appreciate everything, and we wish you all the luck in your future endeavors in Boise.  Too bad you won't be here for the big turnaround that is just about to commence??  :)

9)  Bud asked about USC, and how in the world are they 110th against the pass
?  Can you exploit it?  Wulff said "Well, Hawaii did majority of that damage, over 400 yards passing against them.  Hawaii does that to your passing stats.  SC is youthful in the secondary right now, they have some real talent but they are young.  And their d-front is one of the best in the country, but they just haven't got to the QB as much as they would like to.  We believe we can have some success throwing the ball on them."
Bud asked if that means more of a quick drop passing game?  Wulff said "We need to obviously.  And if Jeff gets confidence and protection, and it's coming, he can throw the ball all over the place vs USC or anyone else.  He has done a good job, just one INT this year in three games, he's doing a very good job taking care of the ball." 
On the SC running backs, Wulff said "It's not one go-to guy running the ball, but with four different guys, and they just have to share it amongst the four.  They are all good backs.  It's kind of like playing against an Albert Pujols - it can be an HR at any time with those guys.  And every game this year they have had big runs.  We have to be good with our open field tackling again.  They are talented, and the hard part is that basic run plays just turn into big plays with their talent."
On Matt Barkley, Wulff said "He's doing a good job taking care of the ball.  And he's very mature for his age, and he manages the game very well.  He just handles himself very well in what they are trying to do." 

10)  The last caller mentioned that Bo Pelini at Nebraska has been welcoming former players back into the fold, and that seemed to have helped Nebraska take some big steps forward in rebuilding in recent years.
Is Wulff encouraging previous players to get involved?  Wulff said when he got there, "We had ideas in that regard.  We have tried to bring players back.  And we have been getting some good calls as leads from former players about recruits too.  Bill Moos has made it a priority to bring players back and get them involved, and they need to be part of their team again.  We need to get them involved.  It is progressing, we are doing more things to bring them back and get them vested.  And we'll keep doing the honorary captain for home games, where it's always a former player that we announce before each home game.  We will have some of the best who ever played here back for every home game."
Finally, on this being the first conference game, Wulff said "Everyone starts fresh, and it's a good opportunity for us.  We are stepping up in our opponent and we are excited to play this game.  We need crowd support for our young guys.  The more support we get, the harder we make it on the other team, the more it will help the young guys.  We had a very good Montana State crowd, and we need to make Pullman a harder place to play.  I couldn't have been more impressed with the support of the students, all the way to the end!"

That's it for now.  Wait, the official site has the video of Wulff's teleconference from yesterday, which you can watch here:



Enjoy your Humpday, and as always, GO COUGS!