Welcome to another fish wrap, where it's time to look at Charlie Weis and the Notre Dame Fighting Irish. And let me just say that this game, I don't know, it seems a little out of place on the WSU schedule, doesn't it? I know Notre Dame is independent and they don't really care when they play you in their season, but for WSU to step out of the PAC-10 schedule in the meat of the season is kind of, I don't know, weird.
What's weird is that Notre Dame plays both Washington schools in the same season, heck, in the same month as they get UW on 10/3. Also weird in that this one's in San Antonio as a Notre Dame "home" game. Still haven't figured that one out. Why San Antonio? Or even the state of Texas for that matter? Is it because Joe Montana once ate chicken soup at halftime of the Cotton Bowl in Texas, where he was so sick he was near hypothermia, only to lead the Irish to a comeback victory?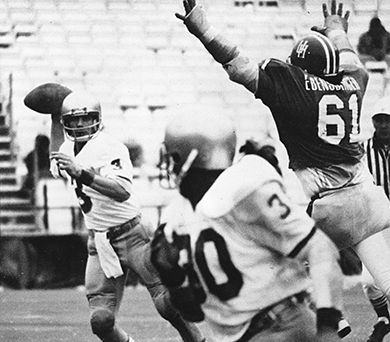 It's true, per
Wikipedia's record of the 1979 Chicken Soup
game:

During the game, Montana's body temperature had dipped to 96 degrees and he had to fight off hypothermia. He was forced to retire to the locker room where the ND medical staff warmed Montana by feeding him chicken bouillon, and by covering him with warm blankets.

By the fourth quarter, Houston had built a 34-12 lead over Notre Dame. Montana returned to the field with 7:37 remaining on the game clock and was cheered actively by the Notre Dame fans. In the last seconds of the game, Notre Dame was behind, but had possession of the ball. With six seconds left, Montana threw the ball out of bounds, which stopped the game clock and just two seconds remained.

The final play was a touchdown pass to receiver Kris Haines after the clock had stopped; placekicker Joe Unis was forced to kick the extra point twice after a Notre Dame penalty, but was successful both times, and Notre Dame won the game 35-34.
Amazing. Actually, Notre Dame is probably choosing to play this one in TX based on the recruiting ties they can establish/maintain from a state that produces a ton of D-1 talent on yearly basis. It's a good way to show off for the locals. Anyway, for whatever the reason, the Cougs face the Irish in San Antonio. At least it's on national TV, and that's as good a reason as any to play them on the Notre Dame Broadcasting Company(NBC). So how do the Irish look coming out of spring?...




2008

: 7-6, with a Hawaii Bowl win over the host Warriors, 49-21. After starting off the year a promising 4-1, they would struggle towards the end, losing four of their last five regular season games. Included in that was an embarrassing loss to a terrible Syracuse team, 24-23, in South Bend.



FANS ARE

: Pretty unhappy. The Hawaii Bowl blowout helped ease some of the sting of a poor finish to the season, but remember, this is Notre Dame we're talking about.




If history is any indication, the bar is normally set pretty high in South Bend. After taking the Irish to two BCS bowls when he first showed up at Notre Dame, things have hit a major bump. Weis is now just 10-15 in his last two years after starting out 19-6 in his first two seasons. Minor bowl wins are never anything to get excited about for this proud program, and while some schools would cherish a seven-win, bowl-winning year, ummm, yeah, they don't exactly do that at Notre Dame.



LAST TIME vs. WSU

: A tough loss for the 2003 Holiday Bowl champion Cougs, as Notre Dame would come back from a 19-point first-half deficit to win 29-26 in South Bend. The Cougs were actually up 19-0 late into the second quarter before it would all begin to unravel. Julius Jones and Ryan Grant combined for 175 rushing yards, and simply wore down the Cougar d in the second half. Notre Dame would actually come all the way back to take a 26-19 lead late in the game, only to see Matt Kegel lead the Cougs down the field for a game-tying 34-yard TD pass to Sammy Moore to force OT. But Drew Dunning missed a field goal attempt in OT, and Notre Dame then kicked the game-winner.

The bright side? The world was introduced to Will Derting that day. The sophomore linebacker was all over the field, with 12 tackles and three sacks, including a highlight-reel shot on Notre Dame QB Carlyle Holiday that separated man from ball. Remember?







OFFENSIVE SYSTEM

: A pretty wide-open attack with multiple receivers and a sophisticated passing offense implemented by Weis. The running game was lacking last year, but the passing game was more than enough. They also love to utilize the tight end, as evidenced by emerging frosh star Kyle Rudolph and his 29 catches at the position last year.



'08 OFFENSIVE RATINGS

: #34 in the country in passing offense, at 245.4 yards per game. The bad news? The running game came in at 101st in country, averaging 109.7 yards per game. Notre Dame was 67th in the country in scoring offense, averaging just over 24 points per game (24.7). But obviously, with the poor rushing totals? The balance was sorely lacking from the offense last year.



'09 RETURNING OFFENSIVE STARTERS

: 10(!). You read that correctly. 10 starters are back from last year. The only position not coming back from last year is fullback, but otherwise, these guys are LOADED with experience.



TOP OFFENSIVE PLAYER

: It would be easy to pick QB Jimmy Clausen. After all, he did have a breakthrough in his true-sophomore season last year, throwing for over 3,000 yards and 25 TD's while completing over 60% of his passes. Those are impressive numbers for any QB, but especially in Clausen's case, in his first full, complete season of being the starting QB at Notre Dame. But instead, I'm going with the big-time home run hitter for the Irish, and his name is Golden Tate.



Tate is, quite simply, an emerging superstar at Notre Dame. After very limited PT his frosh season in '07, he exploded in '08, leading the team in catches (58), yards (1080) and TD's (10), all in his first season as a starter. The absolute home run hitter on the Irish offense, Tate averaged over 18 yards per catch (18.6). Not a huge guy at 5-11, 195, he's got moves and speed to burn, and defines the term "big play". He capped off the '08 season with a huge Hawaii Bowl, where he had a Notre Dame bowl record 177 receiving yards and 3 TD catches on the game. He put an exclamation point on the blowout with a wild punt return for TD. Check it (the punt return is just after the 3-minute mark):



GULP.



DEFENSIVE SCHEME

: Your usual 4-3 type defense. Not a big blitzing team in the past, but they did try to do more of it last year and should do even more this year.



'08 DEFENSIVE RATINGS

: 45th in the nation in rushing defense (134.1 yards per game), 43rd in passing defense (195.7 ypg) and 39th in total defense (329.85 yards per game). An upper-half finisher on D, but not an elite unit in '08.



'09 RETURNING DEFENSIVE STARTERS:

Six, highlighted by three of the four starters in the secondary.



TOP DEFENSIVE PLAYER:

This one is easy. Strong safety Kyle McCarthy is back for another year after totaling 110 tackles in '08, the most tackles in school history for a defensive back.



Not sure if that says good things about your defensive front when you have your safety as your leading tackler, but McCarthy is THAT good. Not a highlight-reel guy like Taylor Mays, McCarthy is just a damn good college safety.




TOP THREE SPRING QUESTIONS

:



1) Can the defense take another step forward?

This looks like a real area for improvement for Notre Dame. Not just the six starters that are back, but there is some serious talent who will be stepping in, including some major speed and athleticism at linebacker in superstar recruit Manti Te'o. Get used to the name.



The guy is hyped as the next great defensive player at Notre Dame, and should play immediately as a true frosh.



2) How about that schedule

? It's looking awfully favorable right now. Eight home games (if you include the WSU game at San Antonio) are the highlight, and the road schedule looks extremely managable - @Michigan, @Purdue, @Pitt and @Stanford. Not terrible teams, but certainly teams that Notre Dame will be favored to beat in '09. Of course, they get USC in their annual showdown, but it's at South Bend in the middle of the year (10/17), so who knows.



3) So how good is Jimmy Clausen anyway?

REALLY good. The kid was hyped beyond belief as a true frosh coming in, holding an elaborate press conference to announce his decision to attend Notre Dame. After slogging through a tough freshman year where he took a beating with the rest of the team in a 3-win nightmare season, Clausen took off last year. Over 3,000 yards, 60% completion percentage and 25 TD's as a sophomore is about as much as anyone could expect in his first complete season as the starter. There is zero doubt now that he sure looks like the "real thing". With a full stable of WR's back and the entire O-line returning, Clausen could absolutely explode in '09.



WSU FOOTBALL BLOG SEZ

: Let's face it - the paycheck is nice, and the national exposure will be a very good thing for WSU when they take on Notre Dame on NBC. But otherwise, this could be an unpleasant Halloween in '09. From top to bottom, this looks like the best Notre Dame team in years. It is very difficult to find a weakness, and while the game is in San Antonio, it's pretty clear it will be a huge pro-Irish crowd.

All that said, the pressure to win big at Notre Dame is off the charts this year. All the rumors last season had Weis getting fired after the year, and even names like Jon Gruden and Urban Meyer were thrown against the wall in Notre Dame circles. He hung on to his job by a whisker, and now he must produce. It's not hard to envision Weis getting shown the door if they don't make it to a New Year's Day bowl. However, given all the talent, experience, and somewhat manageable schedule, I think it would be a surprise if Notre Dame does NOT make it into a BCS game. Unless injuries completely destroy this team, they have 10 wins written all over them.

That's it for today. ENJOY IT, and as always, GO COUGS!