Happy Humpday Cougs.  Well, the Defensive Coug of the Decade poll has run it's course, and the final tally is in.  Will Derting is your choice as the top defensive player of the 2K decade!  Here's the results:
Will Derting – 42 votes, 32.8%
Marcus Trufant - 36 votes, 28.1%
Rien Long – 35 votes, 27.3%
Mkristo Bruce – 9 votes, 7%
D.D. Acholonu – 6 votes, 4.7%
Total votes:  128
| | |
| --- | --- |
| First Vote | :  Wednesday, 23 December 2009 09:44 |
| Last Vote | :  Wednesday, 30 December 2009 09:54 |
So, there you have it.  Here's what we said about Derting when the poll was first introduced:
Will Derting, linebacker – 2001-2005.  Ah yes, #51.  While not exactly a stat-monster, still, Derting is an all-time favorite among Coug fans with his relentless motor and huge hits.  Unfortunately injuries robbed him of some playing time, or else Derting would be way up the WSU ladder in terms of pure stats.  Still, for basically starting three years worth of games, Derting made a major impact.  Sixth all-time in tackles for loss (32), tenth in sacks (14.5), Derting was all over the field whenever he was out there. 
Derting was all-Pac-10 as a sophomore and a junior, showing just how dominant he was when he was able to get on the field.  Injuries destroyed his 6-0, 233 pound body, to the point that he barely had anything left in his knee at the end of his career.  However, he would scrape himself together and deliver in the '05 Apple Cup, his last collegiate game, leading the team in tackles playing on a knee described as "hanging by a thread".  There is a reason you still see so many #51 jerseys around Pullman on gameday!  Derting is truly an all-time fav, and without question one of the best defensive players of the decade.
Now, obviously the poll numbers were down this time.  WAY down.  Many of you voted the first time, and of course we were SABOTAGED by the MKB army, but those of you who legitimately voted the first time chose not to vote again.  It's cool, I get it.  And it's the holidays, plus it isn't football season, so many of you simply aren't reading the site as much as you were.  But it is what it is.  Congrats to #51! 
Moving on….
The latest WSU verbal, Bishop Sankey, has been selected to participate in the US Army Football Combine next month.  The combine is invite-only, and Sankey is now recognized as one of the top juniors in the west.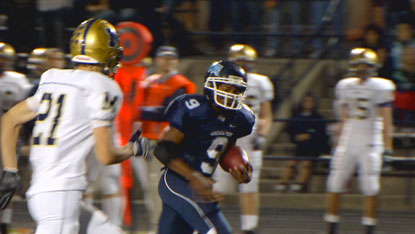 Sankey is one of just seven players from the state of Washington selected to participate.  Per the article, there have been some big-time names who have taken part in this thing:

Past combine participants include Ted Ginn Jr. (Miami Dolphins), Jamaal Charles (Kansas City Chiefs), Tim Tebow (Florida), Colt McCoy (Texas), Matt Stafford (Detroit Lions) and Myron Rolle (Florida State).
WOW.  That's some pretty good company.  Sankey has been dominating a lot of the Coug news lately, as it really was/is a stunning turn of developments to get such an early verbal commitment.  Not many people saw this one coming, but the Cougars have been recruiting him since last summer, so HUGE props to Coach Wulff and the rest!  Getting his commitment so early in the process can, possibly, set up the class for other recruits.  News like that can catch the attention of other players who might be strongly considering WSU, and maybe, just maybe, some others will follow his lead.
But it must also be said that, perhaps, the battle for this young man is just beginning.  The sharks will circle, and will come at him from every possible angle.  You know how it goes with these things.  Other coaches are going to do and say all sorts of things about WSU and coach Wulff to try and get him to change his mind.  You know, Pullman is too far from a major airport, small media market, Wulff's struggled for the first two years and how do you know he'll even be the coach in a year, blah blah blah.  It happens every year, and when you have a potentially special talent like Sankey who has cast his lot so early in the process?  Yeah, he's going to get it from every angle.  Not to suggest WSU won't stay on him and keep recruiting him, even though he's given his pledge – they will – but we are a LONG way from home on Sankey (13+ months before he can even sign). 
UCLA's win yesterday upped the Pac-10 bowl tally to 2-2.  After an 0-2 start, nice to see the LA schools rebound for the conference.  Temple had a 21-7 second quarter lead, but the Bruins rallied for the 30-21 win.  The most interesting aspect of this game, at least to me?  PATIENCE.  As in, patience in looking at UCLA's opponent, Temple, and to see them in a bowl game after so many years of struggles makes me think about our situation in Pullman.
Temple hadn't been to a bowl since 1979, one of the longest bowl droughts in the NCAA.  And yes, they were booted from the Big East a few years back, so they aren't a BCS team anymore.  But after hiring Al Golden in 2005, who inherited an 0-11 team, they struggled at the outset.  But they stuck with him, and stuck with him….and stuck with him some more.  And each year it's improved a little more. 
2006:  1-10
2007:  4-8
2008:  5-7
2009:  9-4
Four years into the program with Golden's guidance, they are a 9-win bowl team that had every right to be on the same field as a talented UCLA team. 
But it wasn't just Temple that finally found success after sticking with the plan.  Arizona is the "closest to home" example of hanging in there and building it out with a long-term plan.  Mike Stoops was your prime hot-seat candidate for a couple of years, but they finally turned the corner in year five, getting to a bowl in '08. 
But it wasn't easy.
2004:  3-8
2005:  3-8
2006:  6-6 (like WSU, bowl-eligible this year but no bowl game)
2007:  5-7
2008:  8-5 with a bowl win
2009:  8-4, and tonight they are playing in the Holiday Bowl vs. Nebraska
You look at the recruiting class from last year and all the true frosh who played and contributed this season, and you look at the verbal commitments who are set to sign in February for this year's class, and you can see the promise ahead.  Stay the course, dig in for the long haul?  The payoff could be pretty special.  It's just hard to get there!  But it's not always about the destination, but the climb that builds the character, you know?
Meanwhile, nothing new on the offensive line coach "situation" that has been percolating.  The rumors are everywhere, but nothing concrete as of yet.  I would imagine they will address it, sooner rather than later, but sometimes these things take time.  But it seems like something is up….
Finally, it's getting WEIRD in Seahawk-ville.  The Hawks have packed it in, big-time, and have been an epic disaster the last month.  After a 48-10 loss to Green Bay, wow, it's awful right now. 
And while a month ago some thought Jim Mora was going to be back, without a doubt?  Today, NOT SO MUCH per Mike Sando of ESPN.com.   
He still may have a better than 30% chance of maintaining his job. But I would have thought a month ago that really the only way it would come into question is if they absolutely imploded down the stretch and that's what's happening.

Hmmm.  Hey, you know what would be REALLY cool?  Can we just, oh, I don't know, wind the clocks back to a little over a year ago?  Could we have Jim Mora take the UW job, all the while retain Mike Holmgren in Seattle and fire Tim Ruskell last December?  Instead, we are stuck with 1) Mora as the head coach with a team that has clearly given up on him, no matter what he says, 2) Holmgren who is now Lord of the Cleveland Browns, and 3) Steve Sarkisian at UW.  Sucks all around doesn't it? 
But you know what's weird?  Yesterday, three Seahawk WR's were in studio at KJR and went OFF on Hugh Breedlove Millen, for UW/NFL QB for his criticism's of the Seahawks.  That's right, TJ Housh, Nate Burleson and Deion Branch were all in with Dave Mahler and really tore it up.  Check out the story here, and the KJR audio here.  What's funny is that after they got Millen on the phone and argued with him, the last 10 or so minutes of the show was TJ Housh, Burleson and Branch taking phone calls from listeners, all without Mahler even in there with them.  They basically took over the show.  Weird.
That's it for now.  Enjoy your humpday, and as always, GO COUGS!