It's hard not to be impressed by Jim Harbaugh. Here's a guy who, as a player, always had a limited tool box to work with, not exactly blessed with the cannon arm or Bledsoe-style size. But he was scrappy, tenacious, and most of all, never gave in. Although he never made it to the big game in the NFL, he did pilot some pretty good clubs to the threshold, including that 1995 Colts team where he was a dropped Hail Mary pass from beating Pittsburgh in the AFC championship. The guy had a big set of onions as a player, and despite not being as talented as the next guy, always had that little extra chip on the shoulder, so to speak, and wasn't EVER going to give in.
So that's all fine and dandy as Jim Harbaugh, the QB. What about as a head coach? Harbaugh's rise up the coaching ladder was a little unusual. Did you know, for example, that while still playing in the NFL from 1994 - 2001, he was also considered an unpaid NCAA assistant under his father at Western Kentucky? Serving as an offensive consultant, he scouted and recruited high school student-athletes throughout several states including Florida, Indiana and Illinois. He was involved in recruiting 17 players on WKU's 2002 D-1 AA National Championship team.
After a brief stop with the Raiders as an offensive assistant, Harbaugh got the head job at the University of San Diego in 2004, of something called the Pioneer League (NO, this is not a D-1 school). But he did outstanding there, with a 29-6 record, including 11-1 his last two seasons. Suddenly he was a hot commodity, and after Stanford punted Walt Harris after 2006, Harbaugh was the surprise hire in Palo Alto.
And all things considered, it went fairly well in year one. Statistically, not so much - Stanford had the 98th ranked defense in the NCAA last year, and the 107th ranked offense - but he did coax them to a 4-8 record, including a 3-6 Pac-10 record. Not great, but after a 1-11 2006 season, 4-8 felt pretty damn good to the Cardinal faithful. And of course, we all know about the 41-point underdog upset of USC, still rated as maybe the greatest NCAA football upset of all time.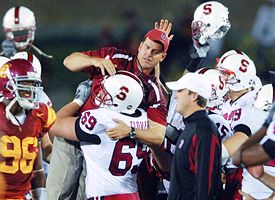 Now in year two, Stanford is most definitely on the upswing. They sit at 4-4, including an impressive 3-2 in the PAC-10. They have defeated Oregon State and Arizona, two of the better teams in the conference this year. And even in defeat, they have played hard, narrowly losing at Notre Dame in a big comeback (28-21) and a tough loss at UCLA (23-20). Hard to believe that this program went 1-11 in 2006, yet right now sits just two wins away from a BOWL game!
However, the bad news for Stanford - even though this week will certainly look "winnable" to the Cardinal - the last three games?
NOT SO MUCH
. In order, they go to Oregon on 11/8, they host USC on 11/15, and then the big game, Cal, on 11/22. So if they are to get to the magic six-win threshold and sure bowl bid given the PAC-10's bowl arrangement, well, they are going to have to beat someone better than them the last three weeks. But it's been done before, and who's to say they can't do it again??
The point to this rant is, what can Paul Wulff and WSU take from Stanford's current success? Is there a secret to what they are doing? Is there something we, as Coug fans, can look at in Palo Alto and hang our hopes on for a possible successful year next year?
The numbers are, to be honest, puzzling. Stanford isn't setting the conference on fire with their offensive prowess. The passing offense is, well, bad, at 109th in the nation in passing yards per game. And yes, believe it or not, that is actually WORSE than WSU's passing yards per game, where we currently sit at 102nd in the country. Weird. Defensively, also not great against the pass. They are, in fact, dead last in the Pac-10 in pass defense, and ranking a miserable 113th in the country through the air.
So it must be turnovers, right? Turnovers are, as they say, the great equalizer, and can make up for some poor statistics. In a word,
NO
. We all know how turnovers have helped contribute to this disaster 2008 season for WSU. But Stanford is right there with us. While WSU has a minus-15 turnover ratio, Stanford is second to last at minus-9. So forget about turnovers.
So they can't throw it, and they can't stop the other team from throwing it. How are they doing it? The GROUND GAME.
That was one of the first things Paul Wulff said about Stanford this year on last week's radio show. They run the ball well, they are strong up front, and that helps set the tone for what they are trying to do. They have a good offensive line that is big, experienced and physical, with three seniors and a junior among the starters. Senior center Alex Fletcher is outstanding, and SI named him a mid-season All-American. High praise for a conference full of very good centers (Alex Mack at Cal, Max Unger at Oregon, etc). They average an impressive 192.4 yards per game on the ground, good for second in the conference to only Oregon. And that's with teams knowing Stanford is going to run the ball, teams knowing that Stanford cannot do anything through the air. Impressive to say the least.
Toby Gerhart is finally healthy this year after going down with a serious knee injury in the second game of 2007, ranking second in the PAC-10 in total rushing yards with 779, and is third with nine TD's. Gerhart's a truck at 6-1, 228, and oh yeah, runs a 4.5 forty. Yikes.
Stanford is also strong in the red zone. They have scored on 22 of 24 trips inside the 20, tied with Arizona for number one in the conference at 91.7 percent. Even though they aren't a high flying offense, they do get the job done with the opportunities that present themselves.
Stanford's also tough rushing the passer, number two in the conference in sacks with 26, just two behind Oregon for tops in the conference. And against the run, they are fourth in the PAC-10. Not great, but good enough. But they are certainly strong up front, with their ability to get sacks and slow down the running game. One more quickie - Stanford is number ONE in punting, with a net of 38.2 yards per punt. That's a NET, which includes the return yardage. They only give up 1.9 yards per punt return.
So there you have it. 1) They run the ball, 2) they are tough against the run, 3) they get to the passer, 4) they are efficient in the red zone, and finally, 5) they play excellent special teams.
Ever hear what Paul Wulff claims they want to do as a program? Almost always, running the ball and stopping the run are two of the first things he will mention as things they want to do on a weekly, consistent basis. And oh yeah, get pressure on the opposing QB, and play strong, sound special teams. Sort of like what Stanford is doing right now, isn't it?
Now here's the thing that doesn't look real promising for a year-two turnaround from a WSU perspective. Harbaugh isn't profiled as some high-flying, no-huddle offense type. He's all about the three yards and a cloud of dust, punch you in the face football. This is what Stanford has set out to do from day one, and they are quickly morphing into what that program will be all about. Sure, they want to throw the ball better, but under Harbaugh these guys are going to be about running the ball and stopping the run, playing a very physical style of football.
And if the shoe fits? Stanford will always be able to get the strong, brainy, disciplined type of players, and not the super bad-ass elite speed guys that will flock to USC, Oregon, Cal and ASU. So this style of play suits them just fine, thank you. However, Stanford's model isn't what Wulff wants to do. I think it's clear that Harbaugh's transition to this style of play is an easier thing to do vs. where Wulff wants to take us, which is that no-huddle spread style of offense. It doesn't take a genius to see that the transition thus far isn't uh, working out....to say the least.
I know many of us have said all along to give Wulff time to turn it around. Let's see what happens after a few more of his recruiting classes get assimilated into the program, and the young underclassmen you see playing every week start to get bigger and stronger with some time in this new program. And I know I have been right there with everyone else, pointing to 2010 as the year that we could really see a leap forward. But in looking at Harbaugh and Stanford, I don't think there is much here for Coug fans to hang our hats on. Some fans are going to look at Stanford this week and say "See, Stanford turned it around quickly under Harbaugh! WSU can too, next year!" I just don't see a lot of hope for WSU 2009 while looking at Stanford 2008. Do you? The style of play is just so different as to what Harbaugh and Wulff want to do, so I don't think this is a very good comp.
SORRY TO WASTE YOUR TIME!
That's about it. Enjoy your Monday, and as always, GO COUGS!