Time for a look at the Ducks and where things are, post-spring style. I love this picture by the way. Not just because Butch has a Duck in the headlock. But look at the Duck outfit. It's like some bad costume you might run out and buy like 5 minutes before a Halloween party or something. Just a shot, mainly, at Oregon and their "super ripped/cool Duck", like this:
Weird.
Moving on, you might want to label their spring the true "Star Search" edition. Why? How about two huge reasons, in Dennis Dixon and his Heisman-like numbers for most of '07, and J-Stewart's school record 1700+ rushing yards? Both of these guys took to Chip Kelly's spread offense better than anyone could have imagined. And hard as it is for a Coug fan to admit, their 53-7 WHOOPING of WSU in Eugene has to go down as one of the most humiliating defeats in the modern Coug era. THANK GOD IT WASN'T ON TV (but you can see a highlight of it here):
Sorry for that. 40-0 at the half? Yuck. At least we'll always have 55-16 in 2003. And 2006 as well, 34-23 in Pullman in one of Brink's best-ever games. That was a good one too. So contrary to popular belief, we haven't always been bitch-slapped by the Quackers. It just felt like it after last year's meltdown that, according to one person close to the situation, was the final nail in Doba's head coaching coffin.
But enough about the past. Time to look ahead. Here's some key questions.
2007:
9-4, 5-4 in-conference, tied for 4th. Destroyed South Florida 56-21 in the Sun Bowl to cap off a disappointing fade that saw them fall from BCS bowl contention to 4th place in the conference in just the final three games. They were firmly in control of the conference until Dixon blew out the knee at Arizona, and they would lose out until the bowl game. Football coaches never fully blame things on injuries, but it's hard not to factor them in for last year. They had 13 players miss significant time due to injuries, including six different players with torn ACL's! That's rough.
Offensive Scheme:
Chip Kelly is the "hot OC" these days, and his spread option offense in the first year at Oregon was a major success. The Ducks had the #10-rated offense in the country, averaging 467 yards per game, including 251+ rushing yards. Overall they averaged over 38 points per game.
Defensive Scheme:
Standard 4-3, but they like to put 8 in the box with the strong safety a lot of times playing like a hybrid linebacker/rover. Defensively they were OK, finishing right in the middle of the country in total defense (382 yards per game, 60th). Still, with all that offense they could afford to be a middle of the road defense and still win 9 games. They return seven starters to the defensive side of the ball, a clear strength of the team next year.
Top Offensive Star:
Even with the loss of Dixon and Stewart, there is still serious talent. But the brightest star has to be SR WR Jaison Williams. Williams was a bit of an enigma last year however, as he didn't put up quite the unreal numbers that many thought he would. He had a huge sophomore year in '06, with nearly 1,000 receiving yards on 68 catches, but fell back to 55 for 844 and eight scores last year. He's huge at 6-5, 240, and teases with great athleticism and 4.4 40-speed. He's fast and physical and can take it to the house at any moment. Check it out:
Top Defensive Player
: Oregon's D really looks strong, which seems odd to say. You almost never think defense when you think Oregon, except back to their "gang green" days in the mid-90's. The secondary overall is going to be the strongest position on the team, with Jairus Byrd and Walter Thurmond III regarded as the best starting corner duo in the conference, and strong safety Patrick Chung is back after 117 tackles last year. Byrd had a team-high 7 INT's and along with Chung will both be on several pre-season all-conference teams. But the top guy on D has to be DE Nick Reed, who is undersized at 6-2, 255, but goes 100% effort, 100% of the time off the edge. He had an amazing 22.5 tackles for loss last year, including 12.5 sacks, good for tops in the conference.
Biggest Spring Questions:
1) Who's the QB?
As of today, it's still not 100% clear. Justin Roper (pictured) had a strong finish to last year, including 4 TD's in the Sun Bowl blowout of South Florida. Roper is young, however, and will be just a sophomore coming into 2008. Roper had a so-so spring, however, and even with the strong Sun Bowl, the job is available. That means the door is open for Nate Costa. Costa is a guy that has everyone excited, as he fits the mold of the spread option QB to a T. Not a huge guy at 6-1, he's physical at 220 lbs and is regarded as being extremely mobile and dangerous with his feet for a QB. Costa is coming off a torn ACL injury, and was limited to no-contact drills in the spring, but it's likely he'll be the starter once fall camp opens.
2) And the Running Back?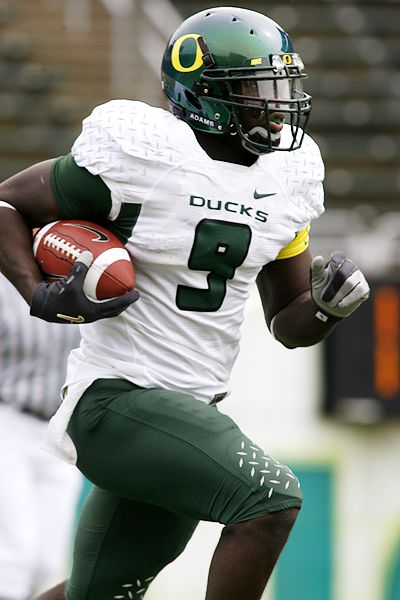 RB Jeremiah Johnson is the top returning rusher, with 344 yards and five TD's last year as the backup to Stewart. However, those numbers are misleading. Johnson was lost with an ACL tear vs. the Cougs halfway through the season. He averaged 6.4 yards per carry when healthy, and if he stayed healthy he could have approached 1,000 yards. He should be healthy coming into fall camp. But the biggest buzz has been the arrival of JC monster RB LeGarrette Blount, a 6-2, 230lb brick house of a runner. Blount picked the Ducks over southern powers like Alabama and Florida State, hailing from E. Mississippi JC, where he had a couple of 1,000-yard seasons. He played extremely well in Oregon's spring game, with 68 yards on just 5 carries. He's big and has moves to boot, and will share the load early with Johnson. Blount also made ESPN headlines when he proclaimed the main reason he chose the Ducks. Dude,
it's the UNIFORMS
! Whatever the reason, he should be a dangerous force teaming with a healthy Johnson at the RB position.
Bottom Line:
While there are holes in leadership and Heisman-type players in Dixon and Stewart are no longer hanging around, well, Oregon is still an upper-division team. The interesting theme is the defense will most likely carry the load while the new faces on offense try to gel early on. It's serious from day one for the Ducks, as UW comes to Eugene to start the season on 8/30. Then they get Utah State at home, travel to Purdue, and host Boise State before coming to Pullman on 9/27. I guess if I had my druthers I would prefer to play them as early as possible while the new offensive faces settle in, but it is what it is.
That said, you have to wonder if they might overlook us a bit? If they come to Pullman at 4-0, that's one thing. But looking at the schedule, on 10/4 they travel to LA to take on USC! Might they sleep-walk into Pullman and just try to grind through it, all the while their minds will be about the showdown with the Trojans to start October?? I will say this - I like being the snake in the grass here. We've done it before to these guys in Pullman (2006), so why can't it happen again?